Roasted Baby Pineapples w/ Genoise Cake & Bruleed Marshmallow
Baby pineapples slow-roasted with vanilla beans, then served with fluffy, eggy genoise cake and topped with bruleed marshmallow disks and flakes of maple sugar.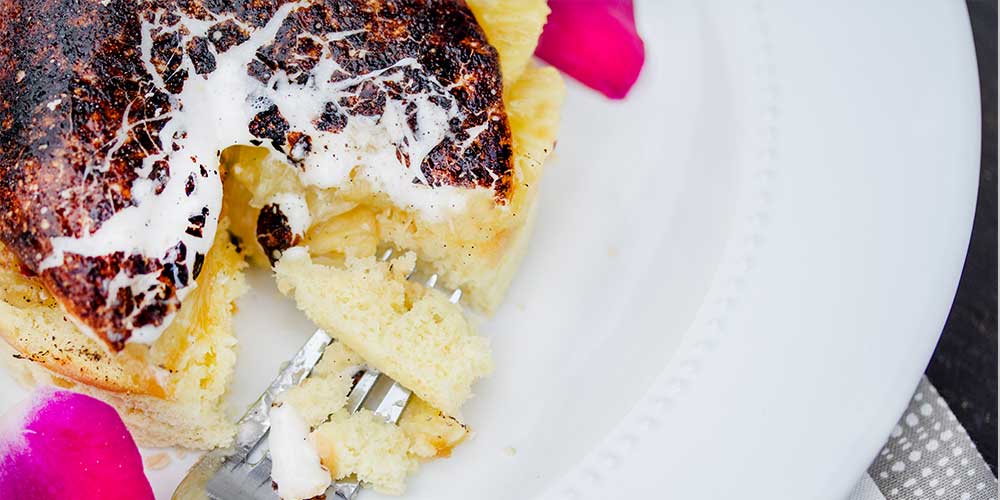 INGREDIENTS
6 MaddyMelts Marshmallows (could substitute other marshmallows)

6 tsp Simple Syrup (1/1 Water & Sugar)

1/4 cup Sugar

Maple Flakes

1 Recipe Genoise Cake
DIRECTIONS
2
Use a 4" diameter ring mold to cut out portions of the cake. Brush each cake round with the simple syrup.
3
Preheat your oven to 350 degrees.
4
Remove the top and rind from the baby pineapples (we recommend using a bread knife).
5
Quarter each vanilla bean. Cut 1 slit in each of the pineapples' sides (not the top or the bottom). Insert a vanilla bean quarter in each slit.
6
Put the pineapples in an oven-safe pan. Sprinkle their tops with the sugar.
7
Roast the pineapples in the oven until the bottoms look well caramelized (brown). Then flip them and continue to roast until the other side is also browned.
8
Remove the vanilla beans. Thinly slice the pineapple.
9
Put a genoise round on each plate. Top it with one pineapple's worth of slices. Top the pineapple with a marshmallow.
10
Carefully brulee the marshmallows with a culinary torch. Sprinkle each plate with the maple flakes.
11
Optional: Tear the petals off the orchids and sprinkle them around the plate.