Eggy, airy, and quick-baking, genoise cake is a great building block for all sorts of desserts. The base recipe is for a "plain" genoise, but we've included information below for tweaking it into a chocolate genoise.
This recipe can be expanded or contracted as long as you follow this ratio – for every egg, there's an ounce of flour (or ¾ oz flour, ¼ oz cocoa powder for chocolate genoise), and an ounce of sugar.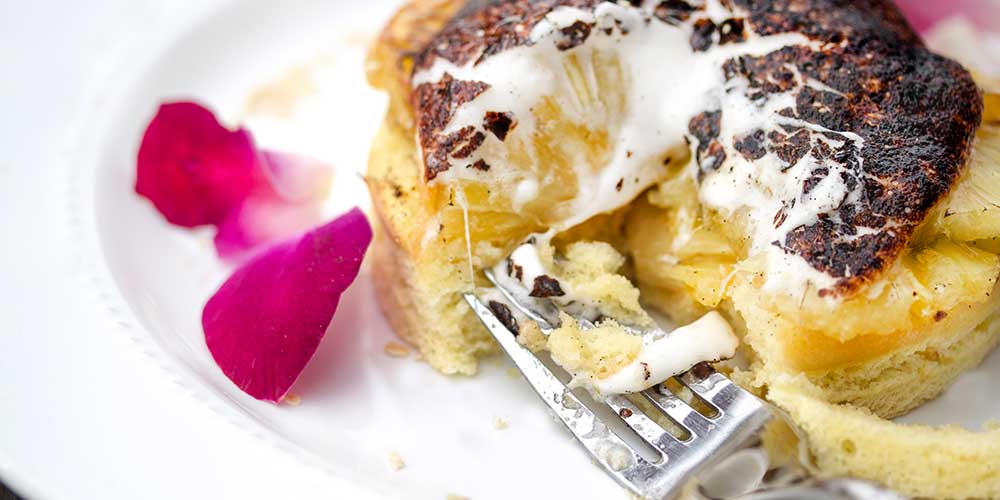 INGREDIENTS
6oz Cake Flour

6oz Sugar

6 Eggs

1 tsp Salt
Chocolate Genoise:
Substitute Cocoa Powder ¼ of the Flour (we use plain cocoa (not dutch process))
DIRECTIONS
1
Preheat your oven to 350 (convection oven) or 400 (still oven)
2
Let the eggs come to room temperature or place them in a bowl of warm water for about five minutes.
3
Add the sugar to the eggs and beat on high speed for ten minutes, until the eggs reach the "ribbon stage" (they change from a darker yellow to a pale yellow, and will drizzle in distinct ribbons that sit up above the surface of the rest of the eggs) for a few moments.
Once the ribbon stage has been reached, reduce the speed to low and continue to beat for three more minutes to break up any large air bubbles for a uniform consistency.
4
Spray a baking pan with non-stick spray. Put a layer of parchment paper on it. Spray the parchment paper with the non-stick spray, then sprinkle it with flour. Shake off any flour that doesn't adhere to the paper and discard.
5
Sift the cake flour (and cocoa powder, if using) into the eggs in small installments, and gently fold each installment in before continuing. Start with only a little at a time, the more flour you incorporate, the more you can add.
6
Once all the flour (and cocoa powder, if using) is incorporated into the batter, turn it out on the pan and gently spread it out (with a spatula, ideally an offset one) to a uniform thickness with a smooth top. Lift the pan a few inches above the counter and let it drop back down to shake it out.
7
Bake the genoise in the oven until it starts to pull away from the sides of the pan and an inserted paring knife comes out clean.
8
Remove the cake from the oven and put the pan on a cooling rack to let it cool completely (ten minutes or longer).
9
Cut along the sides of the pan to release the cake.
10
Optional (But Recommended): Brush the cakes with simple syrup before serving or constructing more complicated desserts with them. This not only imparts sweetness, but also helps keep them moist.