This salad is a great way to enjoy the tender, sweet meat of Alaskan spot prawns. Mixing the orange zest powder and guajillo chile powder together creates a vibrant orange and red coating that makes the cooked prawns a provocative color that catches the eye.
The chili/orange coating also adds a strong note of citrus with a fruity earthiness from the guajillo chilies. Despite their bright red color, the coated prawns are not actually spicy (though that can easily be changed by substituting other dried chile peppers). The arugula salad is citrusy, nutty, and rich, and therefore helps to cut the sweetness of the shrimp.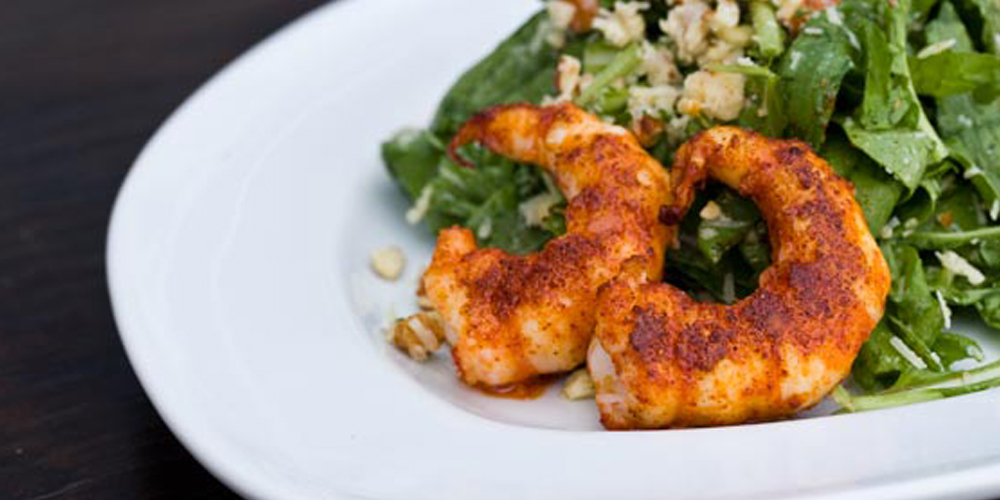 DIRECTIONS
1
Toast the almonds on a sheet pan in a 400 degree oven until lightly browned and aromatic. When they are finished, move them to a bowl and let them cool before chopping them fairly fine (pulsed) in a food processor.
3
Toss the arugula with the vinaigrette, parmigiano reggiano, and almonds. Put the salad on plates in preparation for the prawns.
4
Mix the orange and chile powders in a bowl.
5
Peel, wash, and dry the spot prawns. If they have a visible "vein," remove them by running your knife down the edge of the prawn nearest the vein to open up a path, then pick them out with the tip of your knife.
6
Season the prawns with salt and dredge them in the powder blend. Melt butter with some oil in a frying pan. Once it is foaming, add the prawns. They cook very quickly. It only takes about one minute per side to completely cook a prawn.
7
Put the prawns on the arugula salad and serve immediately.
Making the Prawns Spicy:
You can swap the guajillo peppers in your chili powder with other peppers to make the prawns more spicy. We recommend trying
Chipotle Chilies
for smoky heat,
De Arbol Chilies
for medium heat, or
Thai Chilies
for real fire. Of course, you could go all out and use
Habanero Chilies
or
Ghost Peppers
, but we're not sure you'd still be able to taste the prawns!