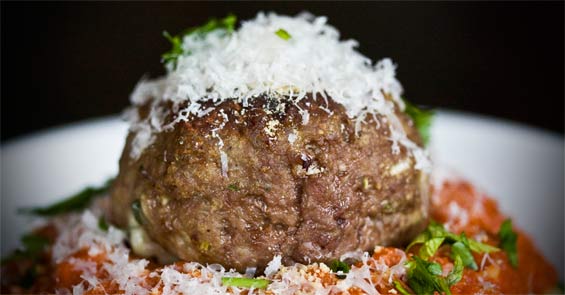 Wild Boar Meatballs
Make your meatballs tastier, yet leaner, using ground wild boar instead of conventional beef or pork. Roasting the meatballs instead of pan-frying them allows you to make really big ones.
Drink Pairings: Frappato from Sicily or Canonau from Sardinia
Ingredients: (Makes 4 Servings)
Meatballs:
1½ lbs Ground Wild Boar
2 Eggs
1 cup Unseasoned Breadcrumbs (ideally homemade breadcrumbs)
½ cup Fresh Italian Parsley, minced
1 ½ cup Onion, chopped
1 tbsp + 1 tsp Salt
~12 grinds of Black Pepper (Tellicherry Pepper)
2lbs Fresh Pasta
Garnishes:
Parmigiano Reggiano Cheese
Bread Crumbs
Minced Italian Parsley
Plus: Basic Tomato Sauce Recipe
Instructions:

1. Combine the ground boar, eggs, breadcrumbs, onion, parsley, salt and pepper in a bowl. Mix with your hand to ensure good distribution of the ingredients.

2. Preheat your oven to 350.
3. Take some of the meatball mixture and form a small patty. Cook the patty in some oil on the stove top, and taste to assess whether the mixture is seasoned to your liking.

3a. For big meatballs: Form the meatball mix into 2oz balls (~1 ½ inches diameter). Heat some oil in a frying pan and add the meatballs. Sear them on all sides. Move the frying pan to the oven and roast until cooked through (~15 minutes).
3b. For small meatballs: Form the meatball mix into 1oz balls (~3/4 inch diameter). Place on a baking pan in the oven and roast until cooked through (~15 minutes).

4. Cook the pasta.
5. Top the pasta with the red sauce. Put one big meatball or a few small meatballs on top. Garnish with some freshly grated/shaved parmigiano reggiano, parsley and breadcrumbs. Serve.



___________
Browse More:
Wild Boar Recipes
Ground Meat Recipes