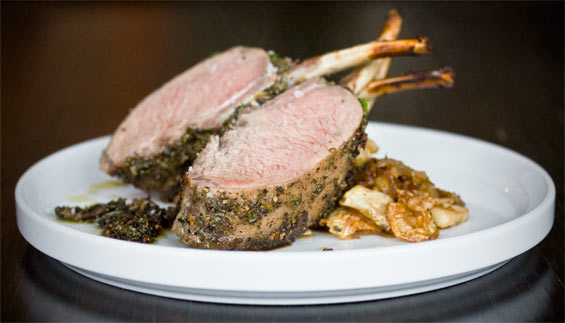 Herb Crusted Wild Boar Rack
Roasted whole and sliced into chops, wild boar racks offer both great flavor and a beautiful presentation. We rubbed this one with a potent herb/spice crust for extra flavor, and brined the meat ahead of time to make sure it was moist when cooked.
Drink Pairings: Chateauneuf-de-Pape or Priorat from Spain
Ingredients: (Makes 4 Servings)
1 Large Wild Boar Rack (could substitute 1 ½- 2 Small Wild Boar Racks)
2 medium sized Celeriac
1 tbsp Unsalted Butter
2 Onions, thinly sliced
3 Whole Cloves
1 tbsp Tellicherry Peppercorns
3 cloves of Garlic, minced
Zest of 1 Lemon, minced
2 tbsp fresh Rosemary, minced
2 tbsp fresh Sage, minced
2 tbsp fresh Thyme, minced
Salt & pepper
Olive Oil
Plus: 8 cups of Brining Solution
Directions:

1. Brine the wild boar rack overnight (how to brine meat & poultry).

2. Grind the cloves and peppercorns (how to grind whole spices).
3. Mince the garlic, rosemary, lemon zest and sage.
4. Mix together the minced herbs, garlic, zest, 1 tbsp of salt and ground spices with just enough olive oil to make a paste.
5. Optional: For an even better presentation, scrape any bits of meat or silver skin still clinging to the exposed bones.
6. Rub the rack with the paste, and cover it with plastic wrap. Let sit for at least one hour. Should be left on the counter if you're cooking it in an hour.

7. Trim the ends off the celeriac root. Slice it 1/8th of an inch thick (this is much easier using a mandoline or v-slicer). Put it in a bowl, covered with water, until you're ready to cook it.
8. Preheat your oven to 350.
10. Heat some olive oil in a large frying pan over medium-medium high heat, and lay in the rack, rib-side down. Drizzle any paste/oil left on the plate over the top.
11. Melt & lightly brown the butter in a large frying pan. Lay in some of the celeriac slices in a single layer.
12. When the rib-side of the rack has been seared, flip the rack, and move the whole pan to the oven to roast until almost cooked through.
13. Cook the celeriac slices for 1 1/2 minutes on each side. When they're finished, remove them and similarly cook another batch, until you've cooked all of them.

14. Return all the cooked celeriac slices to the pan, and top them with the caramelized onions. Cook just until the onions are reheated. Toss in the minced thyme.
15. Remove the rack from the oven, cover it loosely with foil, and let it rest for about 5 minutes.
16. Slice the rack into two-rib chops, and plate it on top of the celeriac/onion mixture. Sauce with the drippings/paste from the roasting pan. Finish with a pinch or two of salt. Serve.

___________
Browse More:
Wild Boar Recipes
Rack Recipes
Fresh Herb Recipes