Hummus with Z'atar, Pomegranate and Fried Pita
WINE PAIRING
Pinot Grigio
Homemade hummus is easy and tastier than store-bought, especially if you add extra flavors as we've done here.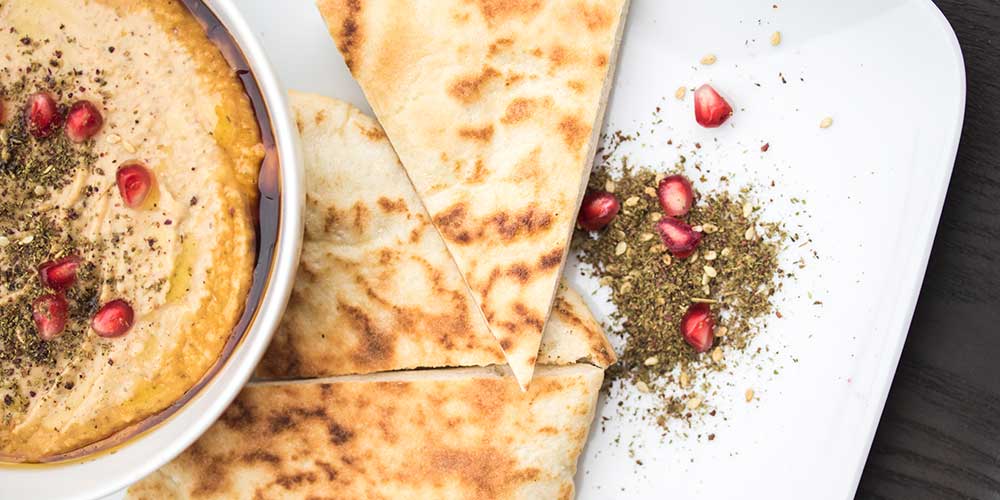 INGREDIENTS
2 cans low sodium Garbanzo Beans/Chickpeas (or 4 cups cooked dried garbanzo beans)

2 tsp Lemon Zest

1/3 cup Lemon Juice

1 tsp Honey Wine Vinegar

Scant ¼ cup Tahini

1 1/2 tbsp Za'atar, plus extra for finishing

1 tsp Aleppo Pepper

3/4 cup Warm Water

¼ tsp Salt

1 tsp Pomegranate Molasses, plus extra for finishing

1 clove Minced Garlic

Pomegranate Seeds (Arils)

4 pieces of Pita Bread
DIRECTIONS
1
Combine the chickpeas, lemon zest & juice, tahini, za'atar, Aleppo, garlic, pomegranate molasses, salt, honey wine vinegar and warm water in a blender.  Blend into a smooth paste.
2
Brush the pita bread with oil and broil it just until browned and crisped on the outside.  Cut it into wedges.
3
Garnish the hummus with pomegranate seeds, pomegranate molasses & za'atar. Serve with the pita wedges.