Za'atar Veal Cutlets with Eastern Mediterranean Salad
These easy and flavorful cutlets are lovely served with a light Eastern Mediterranean style salad with mint, parsley, and a bright and tangy sumac vinaigrette.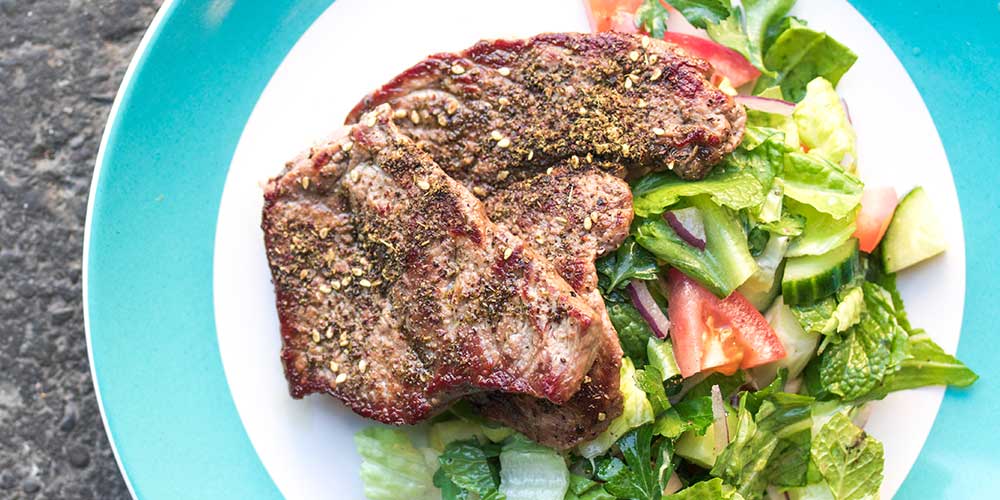 INGREDIENTS
6 Veal Cutlets, pounded & tenderized (how to cut cutlets)

1 tbsp Fresh Lemon Juice

1 tbsp Olive Oil

1 tsp Salt

2 grinds of Black Pepper

2 tbsp Za'atar
Salad:
1 large head of Romaine Lettuce

1 large head of Romaine Lettuce




1 cup chopped English or Persian Cucumbers

1/2 cup Parsley Leaves

1/2 cup Mint Leaves

1/4 Red Onion, sliced thinly

2 Tbs Fresh Lemon Juice

1/4 cup Olive Oil

1 clove Garlic, minced finely

1 tsp Dijon Mustard

1 tsp Ground Sumac
DIRECTIONS
1
Set the oven to broil and place the top rack 4-6 inches from the heat element, or fire up the grill.
2
Place the veal cutlets in a large Ziploc bag. Lightly whisk together the lemon juice, olive oil, salt and pepper, and pour over the cutlets. Seal the bag and marinate at room temperature just while you make the salad.
3
Chop the romaine into bite-sized pieces, and pick the herb leaves, tearing them if you'd prefer. Toss in a salad bowl and add the tomatoes, cucumbers, and onions.
4
In a small jar, combine the lemon juice, olive oil, minced garlic, Dijon mustard, and sumac, and shake vigorously until combined.
5
Remove the cutlets from their marinade, lightly pat them dry, and place them on a baking sheet. Broil for 3 minutes, flip them over, and then broil for another 3 minutes. Pull them from the oven and immediately sprinkle generously, on both sides, with za'atar.
6
Toss and dress the salad, and distribute it between six plates. Put a veal cutlet on each of those plates, and serve immediately.