Fluffy, wheat-y pancakes with bits of nutty, slightly chewy wild rice for texture and flavor. Serve as you would conventional pancakes or pour smaller cakes for use as a starch side in savory dishes.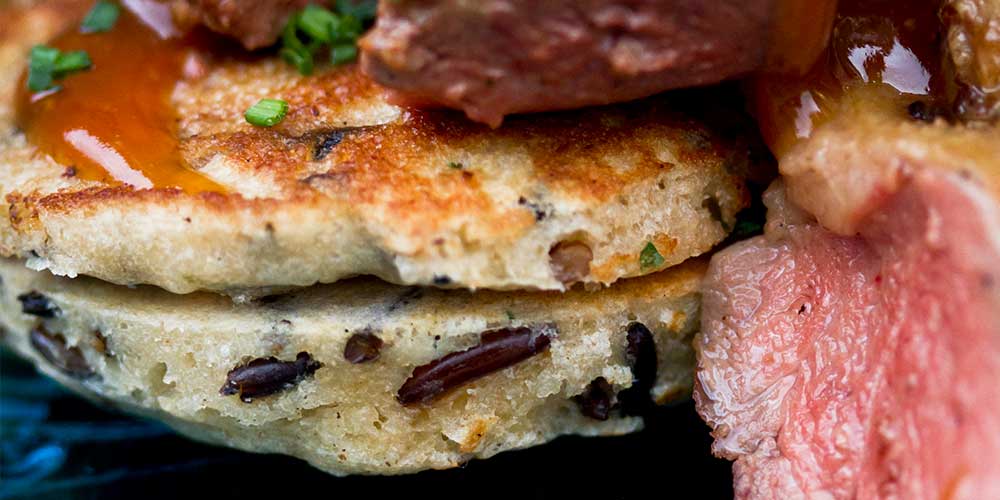 INGREDIENTS
1 cup Wild Rice

2 cups Chicken Stock

1 tbsp Unsalted Butter

3 cups Whole Wheat Pastry Flour

1 1/2 tbsp. Baking Powder

2 tsp Salt

3 cups Milk

3 tbsp Lemon Juice

3 Eggs, separated

1 tsp Fresh Thyme, chopped

1 tsp Fresh Sage, chopped

2 tsp Flat Leaf Parsley, chopped

Salt & Pepper
DIRECTIONS
1
In a pot,
sauté
the wild rice in the butter until lightly toasted.
2
Add the chicken stock and give the rice a stir. Bring the stock to a simmer and add the lid to the pot.
3
Cook until tender (about 50 minutes for standard wild rice), then let the rice cool completely.
4
In a large bowl combine the pastry flour, milk, lemon juice, egg yolks, salt, herbs, baking powder and cooked rice.
5
In a separate bowl whip the egg whites until stiff peaks form. Fold the egg whites into the batter.
6
Heat a large oiled frying pan or cast iron skillet on the stove over medium heat.
7
Cook as you would traditional pancakes, flipping once after all the surface bubbles have popped. Serve.
8
Optional: To display the wild rice on the sides of the cakes and give them a different look (as we have in the above photo) you can use a round cookie cutter or ring mold to trim off the edges of each cake.