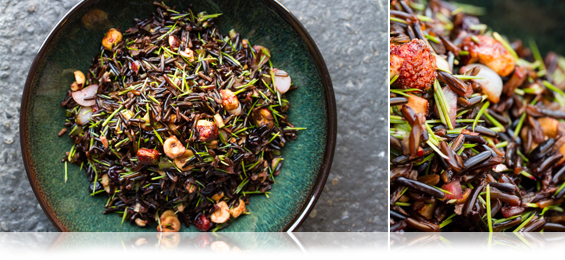 "The Forest Floor Salad"
Spruce Tip, Huckleberry, Wild Onion & Wild Rice Salad
You can think of this as a pilaf or a salad, depending on whether you want to serve it warm, room temperature, or cold – it's lovely at any temperature. It would be a lovely side salad to serve with game meats or salmon.

Ingredients:                                                                       Serves 6-8 as a Side Dish
1 ½ cups Wild Rice
3 cups Vegetable Stock
1 1/2 cups Water
2 tsp Salt
6-8 Wild Onions
3/4 cup Spruce tips
1/2 cup Hazelnuts, plain toasted or candied Albina Sweet & Salty Hazelnuts
1 cup Huckleberries, fresh or frozen and thawed, with any juice
1 Tbsp Pomegranate Molasses
3 Tbsp Balsamic Vinegar

Preparation:
Start the rice cooking:
Rinse the wild rice in cool water.
Add to a medium saucepot, and add the stock and water. Put on medium-high heat, and bring to a boil. Cover and reduce heat, and simmer for 15-20 minutes.
When the rice has begun to burst and is tender, remove it from the heat and drain any remaining liquid. Spread on a baking sheet to cool at room temperature for ten minutes, and then slide into the fridge if you plan to serve the salad cold, or at a later time.
Sear off the wild onions:
Trim the root from the white bulb of the onion. Chop off the top of the onion where it's light green in color, reserving the darker tops. Halve these white bulbs.
Heat 2 tsp of olive oil in a cast iron skillet.
When the oil is hot but not yet smoking, place the onions cut side down and get a nice hard sear on them, pulling them before they burn. Set aside to cool.
When cooled, medium dice the seared wild onion bulbs, and then finely chop approx. 1/2 cup of the uncooked light- to medium-green onion tops. Reserve the remaining onion tops for stock.
Assemble the salad:
If the hazelnuts are whole, cut them into big chunks with a knife or smash them a little with that cast iron skillet.
Cut or pick the needles from the spruce tips, discarding the small center stems. Chop very, very finely to an even mince.
Whisk together the pomegranate molasses and the balsamic vinegar until incorporated.
Toss the slightly cooled rice with the wild onions, spruce tips, hazelnuts, and huckleberries. Dress with the vinegar mix, and season with salt, pepper, and lemon to taste. Can be served warm, room temperature, or cold.


__________
Browse More:
Wild Onion Recipes
Huckleberry Recipes
Rice Recipes