Makes 6 Servings
WINE PAIRING
Sauvignon Blanc from San Cerre or Albarino from Rias Baixas, Spain or Grunear Veltliner from Austria
This is a comforting soup with a slight pine note provided by the wild matsutake mushroom. Perfect for a cold winter's day. This recipe uses most of the fresh matsutake as a topping (preserving its raw texture and flavor) rather than cooking it into the soup. For a stronger matsutake flavor you could add more to the soup while it's cooking, or use the soup broth to reconstitute some dried matsutake mushrooms.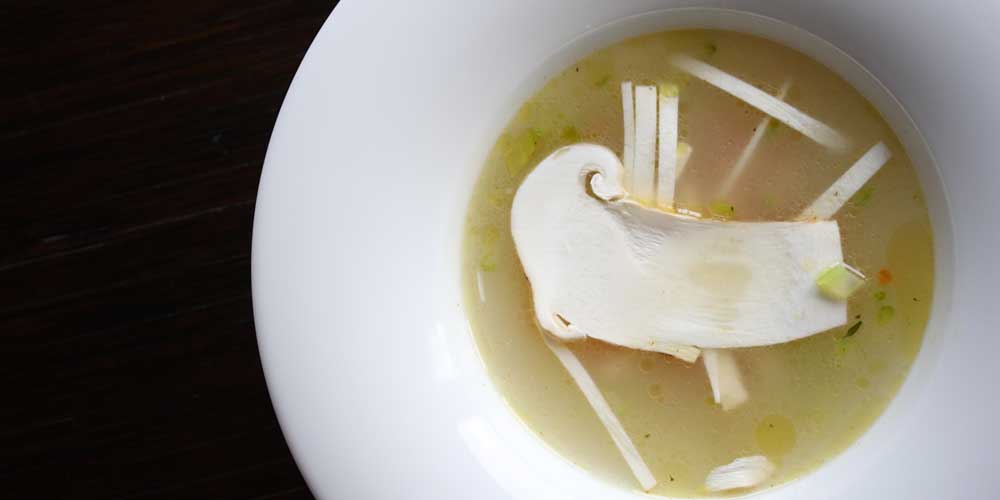 DIRECTIONS
1
Brown the chicken wings in a sauce pan.
2
Deglaze with white wine.
3
Add the thyme sprigs and chicken stock.
4
Brush off the matsutake mushroom. Slice it as finely as possible (without breaking the slices) using a mandolin or a chef's knife. Throw any imperfect slices and edible scraps into the stock, but keep the best slices separate.
5
Simmer the soup for 45 minutes to an hour.
6
Sauté the diced onions, carrots, and celery in an oiled frying pan for about 2 minutes (you want them to still be slightly crunchy).
7
Strain the soup, and put it in bowls. Top with some of the sautéed vegetables and the thin slices of raw matsutake.