Wild Spring Produce & Couscous Salad

This is a celebration of gorgeous spring wild foods. This may look like a daunting number of steps for a salad, but all of the prep can be done well in advance, and the salad can be assembled in a snap at the last minute, which makes it a great recipe for entertaining, picnicking, or camping. Well, glamping.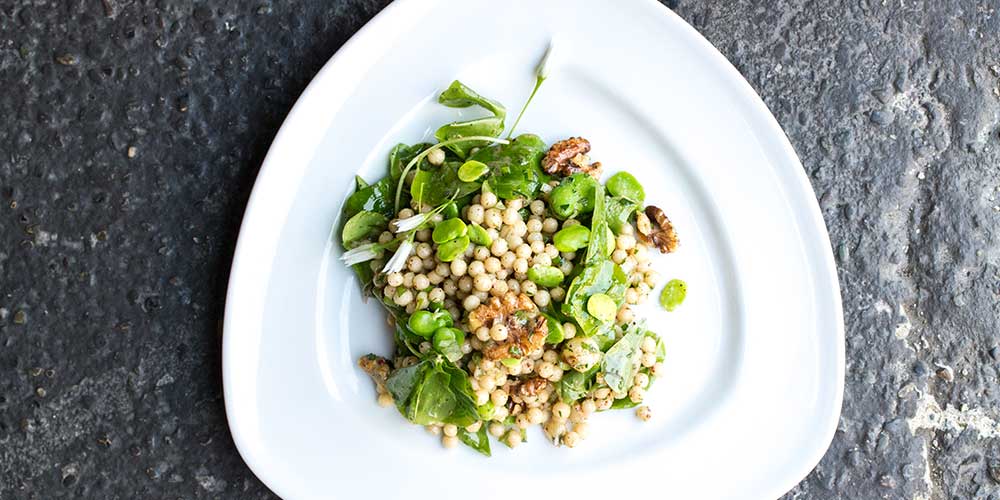 INGREDIENTS
For the Za'atar Viniagrette:

Zest and juice of 1 Lemon

1/2 cup Rice Wine Vinegar

1/2 Shallot, peeled and chopped

1 clove Garlic, peeled and chopped

1 Tbsp Dijon Mustard

Pinch Aleppo pepper

1/2 cup Canola Oil

1/2 to 1 cup Olive Oil, not a premium one

3 Tbsp Za'atar

Salt and Pepper to taste
DIRECTIONS
1
Heat the oven to 350°F.
2
Bring the stock and water to a boil, add the olive oil and salt, and return to a boil.
3
Add the Lebanese couscous, reduce the heat to medium-low, and cover the pan. Simmer approx. 10 minutes or until al dente.
4
Drain well through a fine mesh colander, and shake off any excess water. Spread out evenly on a cookie sheet, let cool at room temperature for 10 minutes, and then slide the tray into the refrigerator to cool further.
5
Arrange walnuts on a cookie sheet in a single layer.
6
Toast them in the oven for 8-10 minutes, until they're aromatic, checking frequently.
7
Fill the pot with water again, and again add salt until it tastes like the sea, and bring to a boil.
8
Fill a medium bowl with ice and water, and have at the ready in your sink.
9
To prepare the fava beans, split open the green pods and take out the fava beans. Each of these has its own waxy shell that needs to be removed. Blanching these in hot water makes this much easier. When your salty water has reached a boil, dunk these in for 30-90 seconds, typically until they float to the surface, but no longer than two minutes.
10
Plunge them into the ice bath to stop their cooking.
11
Using a paring knife, split each of the thin waxy shells and gently squeeze out the bright green fava beans. This will yield approximately 1 cup of blanched favas.
Sear off the wild onions:
12
Trim the root from the white bulb of the onion. Chop off the top of the onion where it's light green in color, reserving the darker tops. Halve these white bulbs.
13
Heat 2 tsp of olive oil in a cast iron skillet.
14
When the oil is hot but not yet smoking, place the onions cut side down and get a nice hard sear on them, pulling them before they burn. Set aside to cool.
15
When cooled, medium dice the seared wild onion bulbs, and then finely chop approx. 3/4 cup of the uncooked light- to medium-green onion tops. Reserve the remaining onion tops for stock.
Make the Za'atar Viniagrette:
16
Whir all the ingredients from lemon zest through Aleppo pepper in a blender until smooth.
17
While the blender is running, slowly stream in the canola oil first, and then the olive oil, until well incorporated.
18
Pour into a mixing bowl, and whisk in the za'atar, and then season to taste with salt and pepper.
19
Toss the chopped wild onion and cooled couscous with a generous amount of za'atar vinaigrette. Any leftover dressing will keep in the fridge for 3-5 days.
20
Add the green fava beans, toasted walnuts, and minced parsley, and toss gently to incorporate.
21
Cut off the leafy ends of the wood sorrel, leaving an inch or two of stem on each, and either toss them in even more gently or garnish the salad with them once it's on the plate, since these are so delicate. Use plenty, though, for their lemony perky flavor.
22
Finish with a squeeze of lemon juice, if needed.