Wild Boar & Wagyu Oil Tamales
Makes 8 Servings
WINE PAIRING
Brunello of Montalcino
In general any braised pork shoulder dish can also be made (and made more exciting) with wild boar shoulder. Here beer-braised pulled wild boar is wrapped in tamales made with wagyu oil for extra body.
You'll likely have extra pulled wild boar, but nobody will be complaining.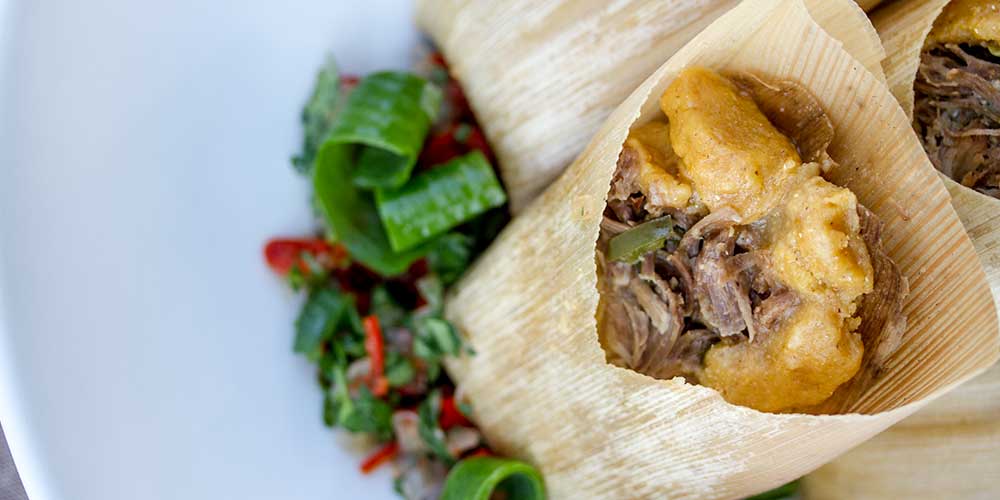 INGREDIENTS
Braising Liquid:

1 bottle Mexican Beer (we used Corona)

1 tsp Whole Cumin Seeds

1 tsp Smoked Paprika

2 cups of Water or low-sodium Stock

2 cloves of Garlic, crushed

1 Bay Leaf

1 tbsp Kosher Salt
Dough:

2 cups Corn Masa Harina

1 tsp Salt

1 tbsp cold Wagyu Oil or Lard

1 cup leftover Braising Liquid
Filling:

2 cups of the Braised Wild Boar

¼ cup chopped Green Onions

1/2 Jalapeno Pepper, seeded & chopped

½ cup leftover Braising Liquid
Salsa:

10 Spicy Peppadew Peppers, chopped

1 tbsp Vanilla Pickled Onions, chopped

1 tbsp chopped Cilantro

Dried Corn Husks

Salt & Pepper
DIRECTIONS
1
Preheat your oven to 350 degrees.
2
Sear the cubed wild boar shoulder in a hot, oiled pot until the cubes are browned on all sides.
3
Add the braising liquid ingredients.
4
Bring the liquid to a boil, then cover the pot and move it to the oven to braise until the wild boar is tender.
5
Strain the liquid off the boar (and reserve it). Shred the meat.
6
Chill the braising liquid until the fat rises to the surface & skim it off.
7
Soak the corn husks in hot water for at least 20 minutes.
8
Mix together the dough ingredients in a large bowl until a dough forms.
9
Mix together the filling ingredients in a separate bowl.
10
Trim the narrow ends off the corn husks to make them a square.
11
Flatten ¼ cup of the dough on the bottom of a corn husk. Put a heaping tablespoon of filling in the middle. Close the dough around the filling, then wrap the husk around the dough & place it on a plate or cutting board with the ends of the husk on the bottom (to hold it closed).
12
Repeat until all the tamales are formed.
13
Put the tamales in a steamer and steam for about 40 minutes.
14
Mix together all the salsa ingredients.
15
Serve the tamales with the peppadew salsa.