Pappardelle with Wild Boar Ragu
This recipe was entered in a wild boar recipe contest hosted by our restaurant distribution division. It was created by Jason Weiner of Almond Restaurant, and we made a few slight adjustments.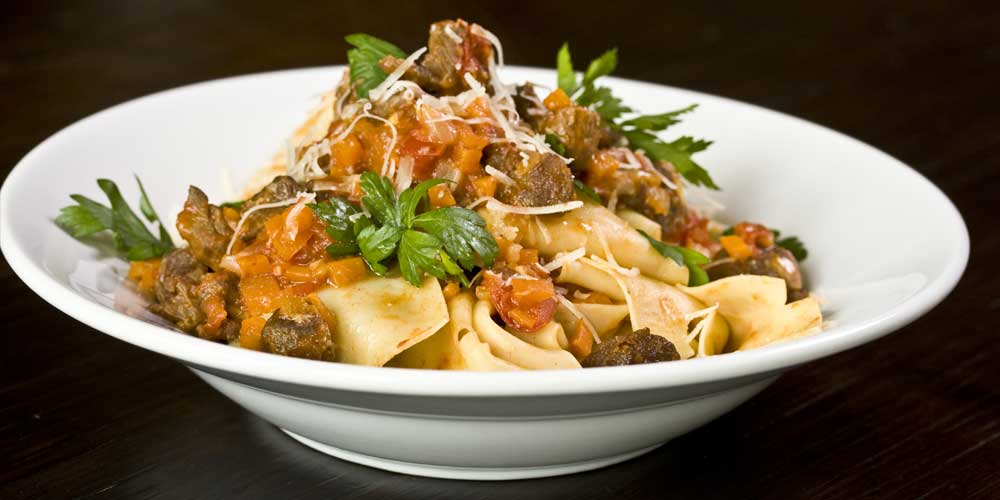 INGREDIENTS
1 pound Boneless Wild Boar Shoulder (small diced)

1 small Spanish onion (minced)

1 small carrot (minced)

1 tablespoon minced garlic

1 oz. extra virgin olive oil

1 tablespoon butter

1/2 cup veal stock

1 pinch red pepper flakes

2 fresh roma tomatoes(med. dice)

1 tablespoon high quality tomato paste

1 tablespoon high quality red wine vinegar

1 oz. heavy cream

1 tablespoon grated Reggiano Parmesan

1 teaspoon chopped parsley

4 portions fresh pasta rolled thin and cut by hand 1 1/2 inches wide.
DIRECTIONS
1
Heat a medium saucepot on high heat.
2
Season the wild boar generously with salt and freshly ground black pepper.
3
When the pot is quite hot add the boar, oil, and butter all at once. All the meat to brown thoroughly, then add the onion and carrot.
4
Reduce heat and sweat vegetables until they are slightly caramelized, then add the garlic. When the garlic releases its aroma, add the chile flakes, tomatoes and tomato paste.
5
Cook for another few minutes, and then add the veal stock. Cover and barely simmer for a half hour.
6
At this point the boar should be tender. If its not, continue to simmer.
7
Drop the pasta in boiling salted water. While the pasta is cooking add the cream and vinegar to the ragu, and turn up the heat.
8
When the pasta is ready add it to the ragu along with the parsley and cheese. Adjust seasoning and consistency. If the ragu is a bit thick splash a little of the pasta water into it.