This hearty wild boar stew is inspired by Mexican posole. Cubed wild boar shoulder beer-braised with ground spicy de arbol chilies and earthy/fruity ancho chilies with fluffy, slightly chewy hominy.  Very comforting and very tasty, it really features the boar's flavor.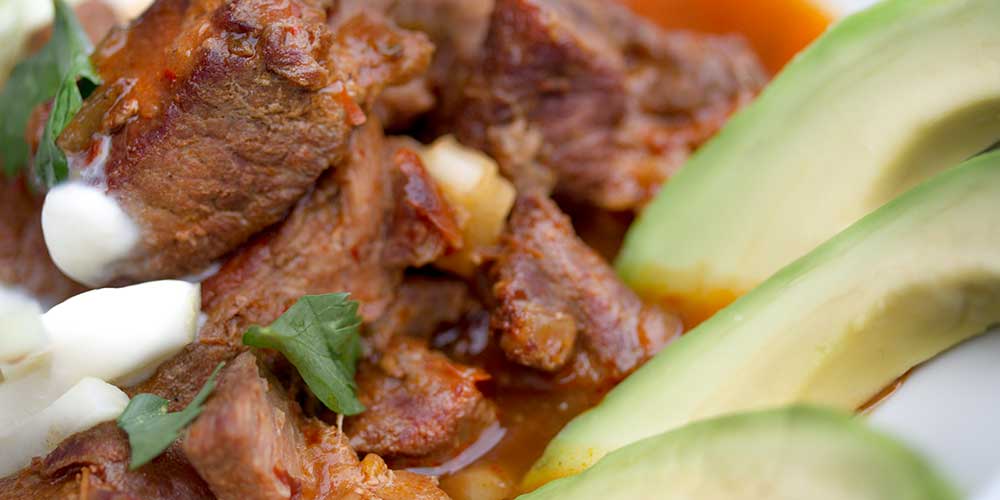 INGREDIENTS
Approx. 4lbs Boneless Wild Boar Shoulder, cubed & silver skin removed

6 Dried De Arbol Chilies

5 Dried Ancho Chilies

2 quarts low/no sodium Pork or Chicken Stock (we recommend pork shank broth)

5oz Pork Fat or Fat Back

28oz Canned Hominy

1 Onion, small diced

2 Bay Leaves

1 tsp Smoked Paprika

1 tbsp Ground Cumin

1 tbsp Dried Mexican Oregano

12oz bottle Porter Beer

Optional: 1 tsp of Honey (or to taste)

Salt & Pepper
Garnishes

Shredded Cabbage

Lime Wedges

Avocado Wedges

Crème Fraiche

Fresh Cilantro Sprigs

Kohlrabi, peeled & cut into matchsticks
DIRECTIONS
1
Optional: Preheat your oven to 325 degrees.
2
Toast the arbol and ancho chilies in a dry pan until they soften slightly (become flexible) and start to smell toasty.
3
Split the chilies in half and remove the seeds (if a couple are stuck in the chilies, that's fine).  Trim off the stems.
4
Get the stock or broth hot in a large stockpot on the stove.  Pour 2 cups of it over the seeded chilies and let them sit for 15 minutes to rehydrate.
5
Season the cubed pork shoulder with salt & pepper.
6
Wipe out the pan where you roasted the chilies.  Add the pork fat/fat back and start to render it until you have a coating of fat on the bottom of the pan.
7
Sear the cubed shoulder (in batches) until all the cubes develop a brown crust.
8
When the chilies have rehydrated, pour them and the rehydrating stock into a blender.  Blend them into a smooth puree.
9
When all the boar has been seared, add the diced onion to the fat along with the bay leaves, cumin, dried oregano and paprika.  Saute for five minutes to toast the spices and soften the onions.
10
Deglaze the pan with the porter beer.  Simmer for five minutes to reduce it in volume by half.
11
Add the contents of the pan (including any chunks of fat/fatback that haven't completely rendered) to the pot of stock along with the chile puree and wild boar cubes.
12
Bring the liquid in the pot to a boil, reduce the heat to the simmer, and put the lid on.  Move the pot to the oven to braise (if you preheated your oven), or continue to braise on the stovetop.
13
Braise until the boar is tender (about 1 ½ hours). Add the hominy 45 minutes into the braise.
14
Remove the lid & skim off most of the fat that's on the surface.
15
Continue to simmer (lid off) until the stew reaches your desired doneness.
16
Taste & add additional salt, pepper, or the honey if necessary.
17
Serve with the garnishes.