Wild Boar Rack with Apple-Cider Glazed Turnips, Cauliflower, and Apple
Makes 4 Standard or 8 Light Course Servings
WINE PAIRING
Chateauneuf du Pape
Delectable, meaty bone-in wild boar chops pair beautifully with this fruity/earthy blend of roasted turnips, cauliflower, carrots & apples.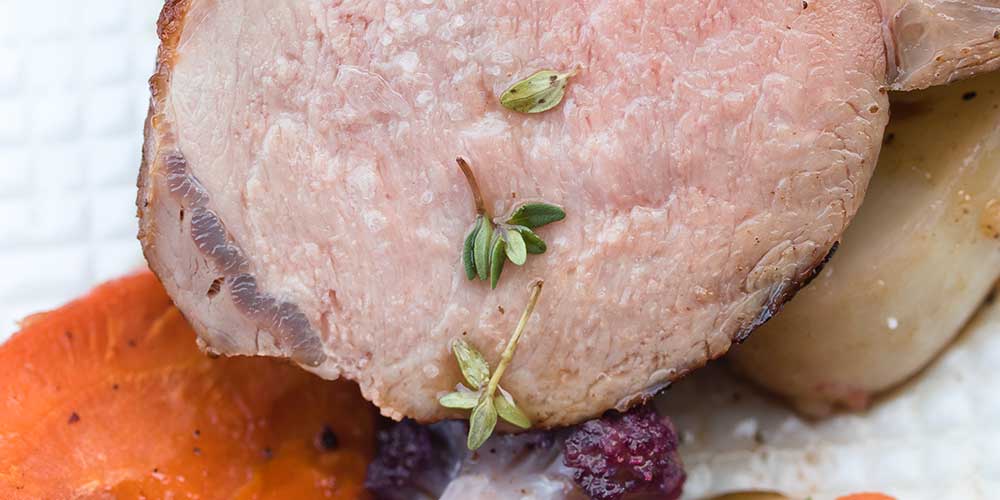 INGREDIENTS
Glazed Root Vegetables:

3 Turnips, stems removed, cut into 8ths

½ head White Cauliflower, cut into florets

½ head Purple Cauliflower, cut into florets

2 Carrots, cut into Large Chunks

1 Honeycrisp Apple (could substitute Fuji), cored & cut into chunks

1 Granny Smith Apple, cored & cut into chunks

1 bunch Lemon Thyme or Thyme

2 tbsp Unsalted Butter, cut into cubes

1 cup Apple Cider (not alcoholic)

1 tsp Salt

½ tsp Black Pepper
DIRECTIONS
1
Preheat your oven to 425°F.
2
Spread the apple, carrot, turnip & cauliflower pieces in a wide baking dish or pan (baking sheet with a lip). Sprinkle the chunks with the pieces of butter, their apple cider, black pepper, and the salt.
3
Cover the contents of the pan with aluminum foil crimped around the edges of the pan. Move it to the oven & roast for 20 minutes.
4
After 20 minutes, remove the foil from the pan & stir the vegetable & apple mixture. Return it to the oven & continue to roast, uncovered, for an additional 20 minutes.
6
Get a hot, oiled oven-safe skillet or frying pan hot over high heat. Lay in the wild boar rack, bone-side up, and sear it until a brown crust forms, then flip it.
7
When the wild boar has browned on both sides, move the pan to the oven & roast the boar until it reaches your desired internal temperature.
We recommend 135°F, but it's worth noting that the USDA recommends all wild game meats be cooked to an internal temperature of 165°F for safety.
8
Remove the wild boar pan from the oven. Move the boar rack from the pan to a clean plate to rest, loosely covered with foil.
9
Put the boar pan on the stove over medium heat & pour in the remaining apple cider, calvados, the ground caraway and the ground juniper berries. Drain any juices remaining on the vegetable sheet pan in as well.
10
Simmer this sauce until it reduces in volume by half.
11
Stir the remaining tablespoon of butter into the sauce, then strain it.
12
Slice the boar rack between the bones into individual chops.
13
Serve wild boar chops (1 for a light serving, 2 for a standard serving) atop some of the vegetable mixture, drizzled with the sauce.