White Albacore Tuna Belly with Olives, Piquillo Pepper & Lemon
Makes 4 tapas Servings
WINE PAIRING
Verdeho
Small, elegant, but packed with flavor, these tiny olive "boats" delicately balance flakes of piquillo pepper, buttery tuna belly & lemon zest.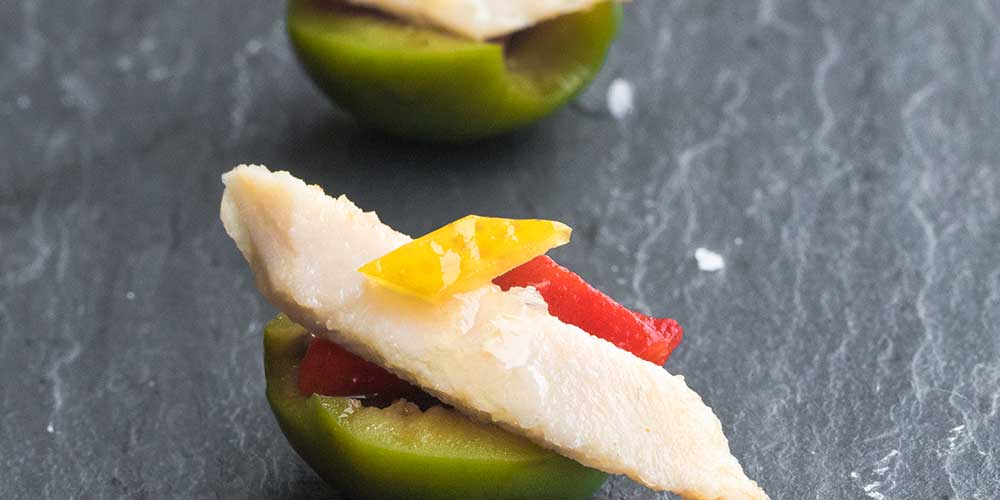 INGREDIENTS
24 Pitted Castelvetrano Olives (or similar large, high quality pitted green olives)

1 Organic Piquillo Pepper, chopped

Lemon Zest, julienned

1/4 tin La Brujula Ventresca Tuna Belly (use the rest in salads, etc)

Lemon Juice

Fine Extra Virgin Olive Oil

Alaska Flake Sea Salt (or similar flake finishing salt)
DIRECTIONS
1
Halve the olives & position them cut-side-up.
2
Fill each olive cavity with a piece of piquillo pepper.
3
Top the piquillo with a sliver of lemon zest.
4
Separate the ventresca tuna into flakes. Cut each flake in half vertically & horizontally on the bias into smaller flakes. Top the piquillo/lemon with a tuna flake.
5
Finish the olives with a few drops of lemon juice, a sprinkle of sea salt, and a light drizzle of olive oil. Serve.