Wagyu Strip Steaks with Hazelnut Green Romesco (aka Greenut Butter)
These strip steaks get extra pep from a tangy, spicy, herby & nutty green romesco sauce.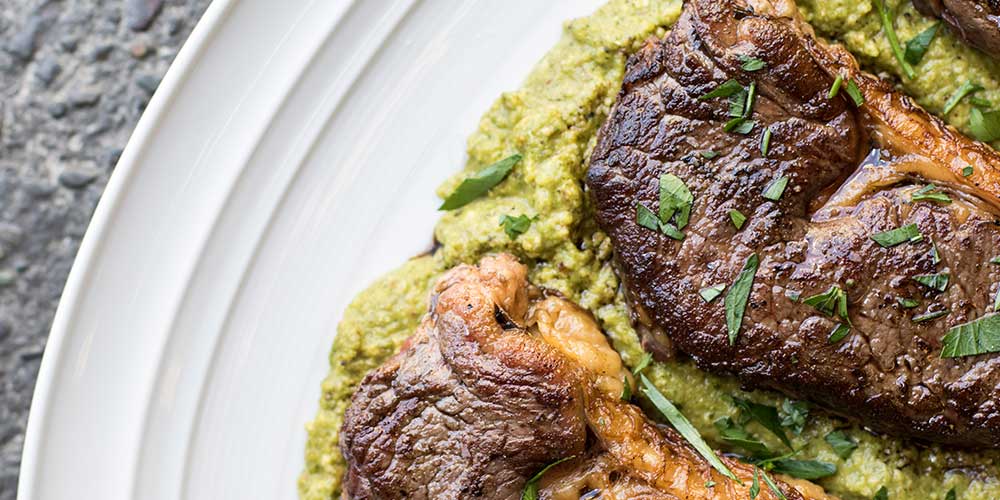 INGREDIENTS
Romesco:

2 Green Bell Peppers

2 Poblano or Green Anaheim Peppers
2 Tomatillos, husk off

½ bunch Cilantro

Zest of 1 Lime

Juice of half that Lime

3 cloves Garlic

1 cup Hazelnuts, toasted

Olive Oil, just enough to emulsify
DIRECTIONS
1
Pat the Wagyu strip steaks dry and season them generously with salt and pepper. Leave them to dry and come to room temperature while you make the romesco sauce.
2
If you have a grill or a gas range, char and blister the peppers and tomatillos evenly, and set aside to cool. Leave the grill on for your steaks. If not grilling, turn your boiler on, and line a rimmed baking sheet with foil. Broil the peppers and tomatillos, turning regularly, until they're evenly charred and blistered. Remove to cool.
3
When they've cooled slightly, peel and seed the peppers. Place them and the tomatillos in a blender with the cilantro, lime, and garlic and puree until smooth.
Add the hazelnuts, and puree until chunky. Drizzle in a touch of oil to bind, and then season with salt and pepper to taste.
4
Ease those strip steaks onto the grill, or into a cast iron pan over very high heat. Sear each side until you develop good looking grill marks or a nice brown crust, and then reduce the heat or move them to a cooler edge or side of the grill until they reach an internal temperature of 130-135°F for medium rare
5
Let the steaks rest for 5-6 minutes, and then serve with green romesco.