Broiled Wagyu Steak with Sauce Bearnaise and Fried Potatoes
Bearnaise sauce is a rich, luxuriously creamy hollandaise flavored with fresh tarragon. Add it to a grass-fed wagyu ribeye steak and you've got a top shelf steakhouse classic.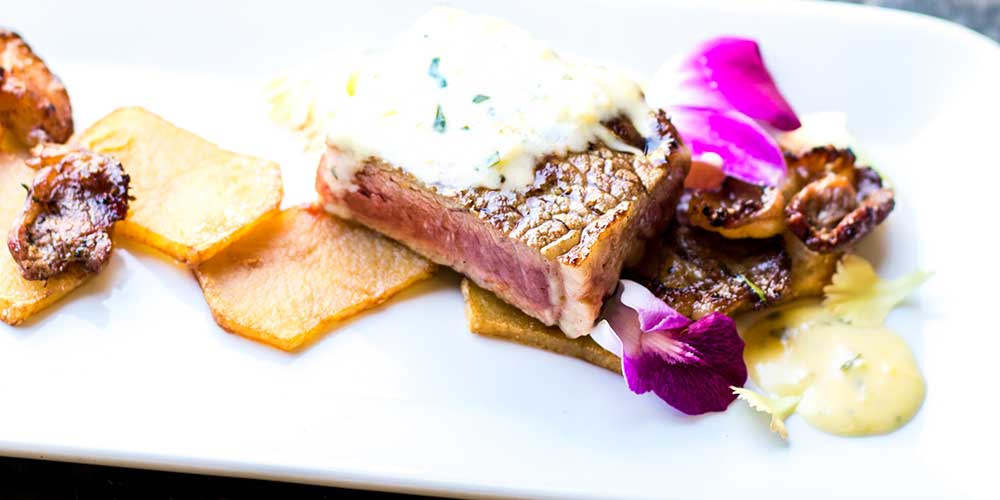 INGREDIENTS
Bearnaise Sauce:

2 Egg Yolks

Juice of ½ Lemon

1/4lb Unsalted Butter, cut in to small cubes

2 Stems of Fresh Tarragon
DIRECTIONS
1
Pre-heat your broiler on high.
Make the Bearnaise Sauce:
2
Set up a double boiler (1 sauce pot half full of water and top with a metal bowl). Bring the water to a boil.
3
Place the lemon juice and egg yolks in the boiler's bowl and stir them constantly with a whisk. The mixture will lighten in color and begin to thicken. At this point remove it from the heat to avoid scrambling your eggs.
4
Add a spoonful of water to loosen the mixture if it becomes too thick (this can be done at any time).
5
Begin adding the butter, 1 small piece at a time, emulsifying it into the egg and juice mixture. If the butter isn't melting, place the bowl back on the double boiler and continue to add butter 1 small piece at a time until all the butter has been used.
6
Remove the tarragon leaves from the stems and chop them very finely, then add them to the hollandaise.
7
Store the béarnaise sauce in a thermos to keep it hot until needed.
8
Preheat your fryer (or a deep pot filled with oil) to 325°F.
9
Peel the potato and slice it into ¼" thick disks, placing them in cold water to prevent discoloration.
10
Remove the potatoes from the water and allow them to dry completely. Once they're dry, par-fry the potatoes until tender but not colored. Remove them from the oil.
11
Increase the oil temperature to 375°F.
12
Fry potatoes until they're crispy and brown. Remove them from the oil and season them with salt.
13
Place steak onto a broiler pan and season both sides with salt and pepper. Place the pan under the broiler & cook for 5 minutes per side.
14
To serve, pour about 1/4 cup of sauce onto each plate, top it with a steak. Place the potatoes on top of each steak and finish with a touch more sauce.