Wagyu Short Rib Sugo w/ Pappardelle
Rich & beefy with plenty of heat (though you can reduce the chilies if you wish for a more mild version), this Bolognese-esque sauce is a great hearty topping for your favorite pasta.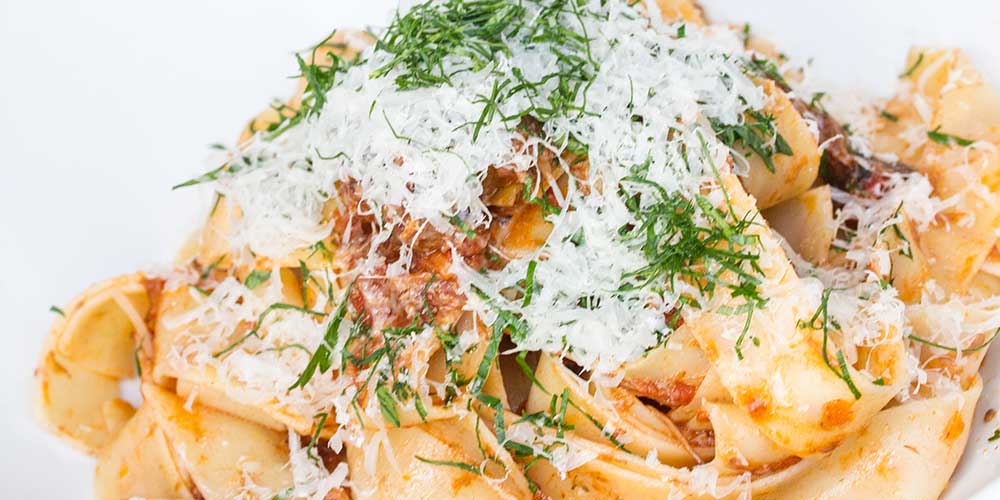 INGREDIENTS
2 heads Garlic

5 Dried Calabrian Chilies

2 stems Fresh Rosemary

2 stems Fresh Oregano

2 stems Fresh Sage

½ bottle Red Italian Wine

¼ cup Red Wine Vinegar

3 Carrots

3 stalks of Celery

3 Onions

2 cans of whole peeled San Marzano Tomatoes

3 packages (3.3lbs) Morelli Wheat Germ Pappardelle
DIRECTIONS
1
Cut the short rib meat off the bones (discard the bones).
2
Cut the short rib meat in to 1 inch squares, sear and brown each piece and remove from the pan. Reserve the fat to cook the carrots, celery and onions.
3
Roughly chop all of the carrots, onions and celery add to the pan with the short rib fat and sweat them until lightly browned.
4
Add the browned short ribs, garlic heads cut in half (with skin is ok), Calabrian chilies, rosemary, oregano and sage. Continue to sweat until very aromatic.
5
Deglaze the pan with red wine & red wine vinegar. Add the canned tomatoes.
6
Bring the mixture to a boil, then reduce the heat to a simmer and cook until the short ribs are VERY tender. If needed, add a bit of water if the liquid begins to get low.  The cooking process should take between 3 or 4 hours.
7
When the short ribs are very tender pour the mixture into a shallow pan and remove the herbs, chili and garlic. Run the entire mix through a food mill to turn in to a uniform sauce.
8
Boil the pasta in salted water.
9
When tender, drain pasta and mix with 1 cup of sauce per person.