Seared Wagyu Ribeye with Pickled Mustard Seeds, Charred Onion Puree, Sweet Potato & Bruleed Lemon
This dish pairs luxurious seared wagyu beef ribeye steaks with autumn/winter flavors.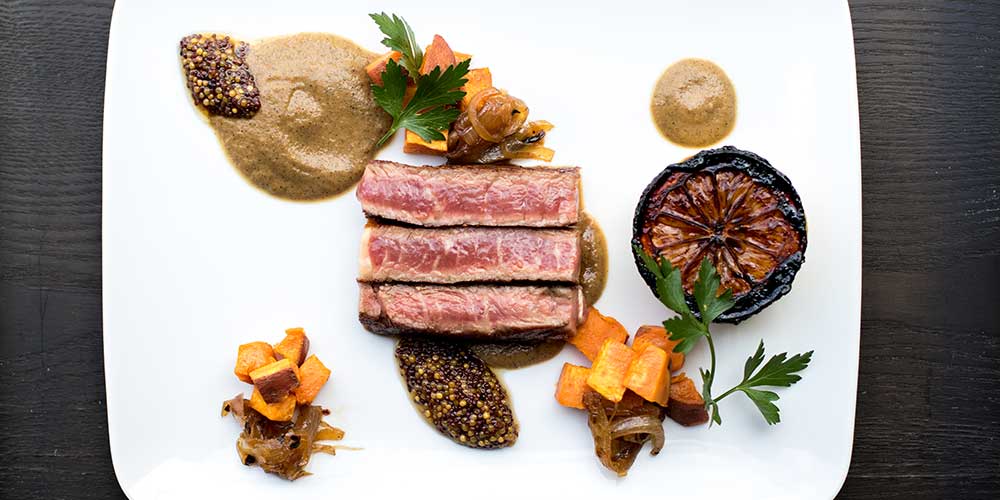 INGREDIENTS
Pickled Mustard Seeds:

1oz Yellow Mustard Seeds

1oz Brown Mustard Seeds

1 Cup Water

1 Cup White Wine Vinegar

½ Cup Honey
Onion Puree:

3 Sweet Onions

3 tbsp Balsamic Vinegar

1 tsp Smoked Paprika
DIRECTIONS
Roast the Yams/Sweet Potatoes:
1
Pre-heat oven to 400 degrees
2
Cut yams in to medium dice, toss with olive oil and season lightly with salt and pepper. Place on a sheet tray and bake until fork tender (roughly 20 minutes). Meanwhile…
3
Cut onions in to 1 inch thick and pre-heat a cast iron skillet on medium-high heat.
4
Place onions in the skillet (dry; no oil) and cook until VERY burnt (this can get smoky and they should be seriously burnt so turn on a fan and open a door!)
5
Turn off the heat and allow the pan to cool slightly, add 1 tbl olive oil to the skillet along with the paprika and 
degla
ze
the pan with the balsamic vinegar. Cover the skillet with foil and place it in the oven and bake until very tender.
6
Place the onions in a high-powered blender and puree on high.
Pickle the Mustard Seeds:
7
Heat a small sauce pan, add the mustard seeds and lightly toast them.
8
Once the seeds are aromatic, add water, honey and white wine vinegar.
9
Bring the mixture to a boil then reduce the heat to a slow simmer. Cook until the seeds are tender (roughly 40 minutes).
10
Cut lemon in half and dust with sugar.
11
Use a torch to burn the sugar, making a nice crust. If you don't have a torch, simply turn a pan on high, add the lemon, cut side down, and caramelize the sugar until bruleed.
12
Heat a pan to high heat and season the steaks with salt and pepper.
13
Cook on high for about 3 minutes a side and then rest the steaks for about 5-7 minutes.
14
Serve the steaks with the bruleed lemon, pickled mustard seeds, onion puree and sweet potato.