Wagyu Flank Steak Sandwiches with Caramelized Onions & Aji Aioli
Wagyu flank steaks have bold flavor that makes them an excellent choice for sandwiches. The key is to slice them thinly against the grain. Here we've paired them with sweet caramelized onions and a peppy aji amarillo chile aioli.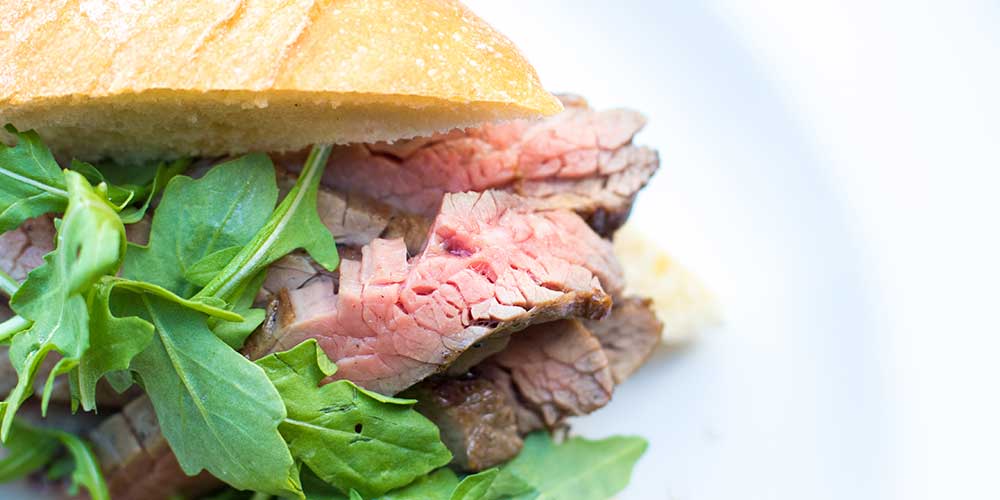 INGREDIENTS
2 Grass-fed Wagyu Flank Steaks

Salt and freshly ground Pepper

Caramelized Onions:
2 medium Yellow Onions

1 tbsp Unsalted Butter

3 tbsp Neutral High Heat Oil (canola, grapeseed, peanut, etc)

1 tsp Piloncillo Sugar (or substitute Brown Sugar)

1/2 cup Honey Wine Vinegar

Aji Aioli:
2 Dried Aji Amarillo Chiles

1 clove of Garlic

1.5 tsp Dijon Mustard

1 tbsp + 1 tsp Sherry Vinegar

Juice from half a Lemon

2 tbsp Water

1 Egg Yolk

½ tsp Salt

1 1/4 cups Canola Oil

2 cups Arugula

6 Ciabatta Rolls

DIRECTIONS
1
Pound out the flank steaks to an even thickness throughout. Pat them dry with paper towels and season them generously with salt and pepper. Let them rest uncovered to come to room temperature and dry further.
2
Rehydrate the dried Aji Amarillo peppers by covering them with hot water and weighting them down with a plate so they stay submerged. We use a French press to do this (and then clean it well so that we don't end up with spicy chile coffee).
3
Peel the onions and cut them cross-wise into rounds between 1/2- and 1-inch thick.
4
Make the Caramelized Onions: Add the butter, 1 tbsp of the oil, and sugar to a nonstick skillet over medium heat. Once the butter melts, stir to incorporate the sugar evenly, and then add the onions in a single layer. Cook for 5 minutes to start searing them.
Add the vinegar, reduce the heat to low, and cook until they're golden and caramelized on the bottoms, checking after 30 minutes.
5
Make the Aji Aioli: Chop the aji Amarillo and place in a food processor. Add the garlic, Dijon, sherry vinegar, water, lemon juice, egg yolk and salt and blend until smooth. With the motor running, stream in the canola oil until you have a smooth mayonnaise consistency. Season to taste with additional salt and lemon juice if needed.
6
Heat a cast iron skillet over high heat. Cut the flank steaks in half if necessary to make them fit in your skillet.
When the pan is hot enough to just start smoking, add the remaining 2 Tbsp oil, then add one of the steaks/pieces carefully (the oil will spatter). Don't move the steak until it gets a nice dark brown crust, about 4 minutes. Flip and repeat, leaving the steak unmolested until it reaches the interior temperature you prefer (125°F will carryover cook to medium rare when resting). Set aside to rest on a plate for 5 minutes, tented with foil.
Repeat with the other flank steak/pieces.
7
Toast the ciabatta rolls. Slather each with a bit of Aji aioli, and then layer on the caramelized onions.
8
Slice the meat across the grain into strips, tossing these strips in the juice that has gathered on the plate.
9
Mound each roll with a serving of steak, season with salt and pepper to taste, and top with arugula. Add the top bun, press down lightly to smoosh the sandwich into general consensus, and eat immediately.