Vitello Tonnato is a classic for a reason. The dish involves cold roast veal (cooked sous vide here for extra tender, perfectly-cooked results) with a savory tuna aioli. It's an unusual surf & turf combo that works surprisingly well. Here we've paired it with a bright, herby salad to help cut the richness of the aioli.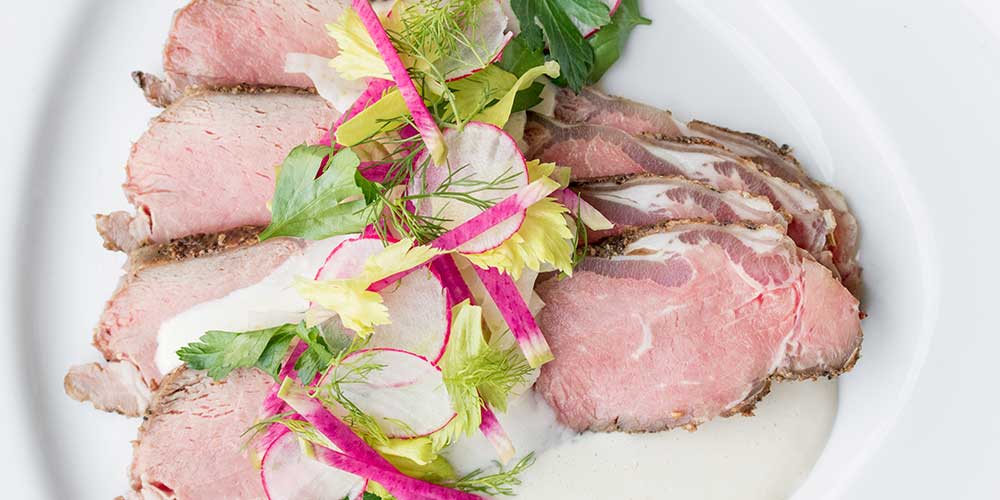 INGREDIENTS
2 1/2 lbs. Veal Striploin

1 tbsp Fennel Seeds

2 tsp Whole Black Peppercorns

1 1/2 tsp Salt
Tonnato Sauce:

2 cloves of Garlic

2 tsp Dijon Mustard

2 tbsp White Wine Vinegar

2 tbsp freshly squeezed Lemon Juice

2 tbsp Water

1 Egg Yolk

1/2 tsp Salt

1 1/4 cups Canola Oil

6oz can St Jude Oil Packed Tuna (could substitute other high quality canned tuna)
1 tbsp + 1 tsp Colatura Italian Fish Sauce

2 tsp Capers, plus extra for garnish

1 tsp Lemon Zest
Salad:

Radishes, thinly-sliced

Shaved Fennel Bulb

Fennel Fronds

Celery Leaves, whole

Parsley Leaves, whole

Capers
DIRECTIONS
1
Preheat your sous vide rig to 132°F.
2
Grind the fennel seeds, salt, and peppercorns together in a spice grinder.
3
Rub the spices onto the veal. Vacuum pack it into a sous vide bag and lower the bag into your sous vide bath. Cook it for 1 hour 45 min
4
Remove the veal from the bath and its bag. Pat it dry, then sear it on all sides in a hot, oiled pan, just until a browned crust develops.
5
Wrap the veal in plastic wrap, and put it into the fridge to chill overnight or for at least three hours.
6
In a food processor, blend the garlic, Dijon mustard, white vine vinegar, lemon juice, water, egg yolk, and salt until well combined. White the machine is running, stream in the canola oil until you've created a loose, smooth aioli.
7
Add the tuna, colatura, capers, and lemon zest, and continue to blend until very smooth, 3-5 minutes, adding water 1 Tbsp at a time if necessary to achieve a thin- to medium-consistency aioli. Taste, and add salt and/or additional lemon if needed.
8
Push through a chinois or fine mesh strainer.
9
Refrigerate, preferably overnight.
10
Combine the radishes, fennel, celery leaves, parsley, microgreens, and capers and toss to make a light and bright garnishing salad.
11
Spread the sauce on a plate.
12
Thinly slice the cold veal and fan it out over the sauce.
13
Garnish the veal with a line of additional sauce and the salad.
14
Finish the plate with a quick squeeze of lemon juice and a sprinkle of finishing salt. Serve.