White Albacore Belly Salad with Beets, Almonds & Arugula
Makes 4 Servings
WINE PAIRING
White Rioja
Elegant & easy, this salad can be made in minutes if you've roasted the beets & toasted the croutons ahead of time.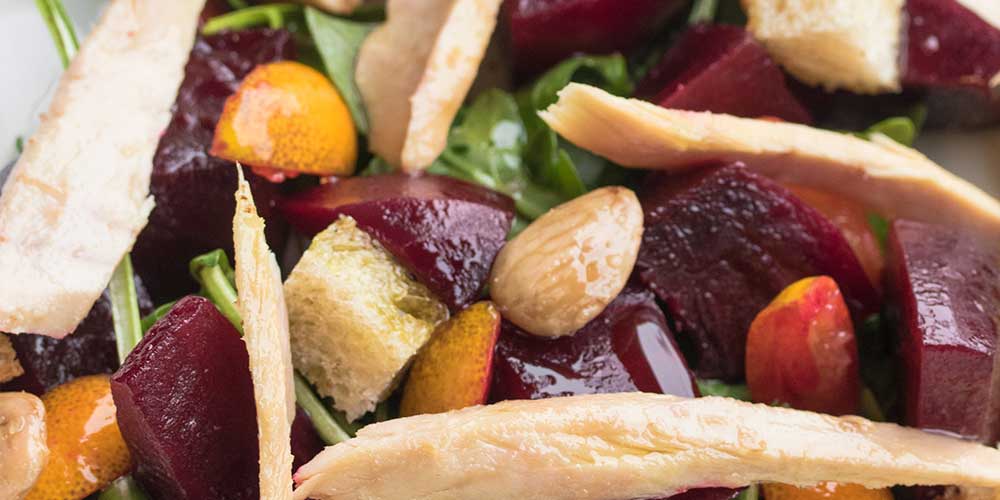 INGREDIENTS
Roasted Beets:

4 Medium Red Beets, Peeled & Large Diced

1 tsp Salt

1 tbsp Olive Oil

¾ cup Water

1 tbsp Sherry Vinegar (we used Gran Reserva Sherry Vinegar)

1 tbsp First Day Arbequina Olive Oil

½ tsp Salt
Croutons:

4 thin slices Rustic Artisan Bread, cut into squares

1 clove Fresh Garlic
1 ½ cups Arugula Greens

1 tbsp First Day Arbequina Olive Oil

8 Kumquats, quartered & pitted

1 pinch Salt
DIRECTIONS
1
Preheat your oven to 350 degrees.
2
Put the beets in a shallow baking dish. Drizzle them with the olive oil, sprinkle them with salt & pour in the water. Cover the dish with aluminum foil.
3
Move the baking dish to the oven & roast for 45 minutes. Remove the foil cover & continue to roast for another 15 minutes.
4
Strain the cooking liquid out of the roasting pan & discard. Add the tablespoon of sherry vinegar move the pan to the fridge to chill.
5
Once the beets have cooled, move them to a large bowl. Mix in 1 tablespoon of the olive oil, and ½ teaspoon of salt.
6
Toast the bread squares until golden & crisped. Peel the garlic clove and rub it on all the squares.
7
In a separate bowl mix the arugula greens with the remaining tablespoon of olive oil, the kumquats, and a pinch of salt.
8
Put some of the arugula mixture on plates or shallow bowls. Top it with some of the beet mixture, then large flakes of ventresca, marcona almonds (1 tbsp per serving), and croutons. Serve.