Venison Tenderloin w/ Salsa Verde & Potatoes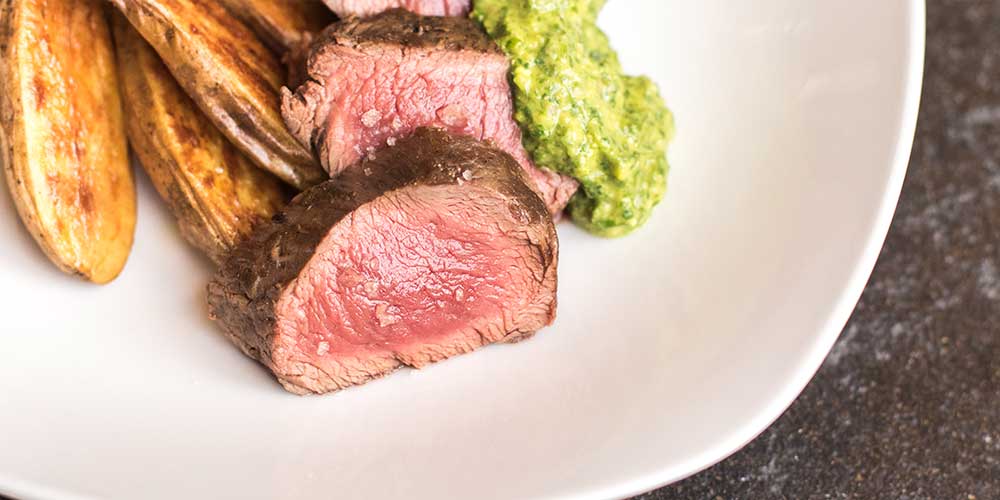 INGREDIENTS
Salsa Verde:

2/3 cup Chives

2 cups Flat Leaf Parsley

1-1.5 cups Arugula (a good handful)

1/2 cup Mint Leaves

3-4 Anchovy Fillets

3 Tbsp finely chopped Red Onion or Shallot

2 cloves chopped Garlic

1-1/2 tsp Dijon Mustard

3 Tbsp Lemon Juice

2 Tbsp Capers

1/2 cup Avocado or Olive Oil

Yolks of 2 Boiled Eggs
DIRECTIONS
1
Preheat your oven to 400°F.
2
Halve each of the fingerlings lengthwise, and toss with 2 tbsp of the olive oil, salt and pepper. Spread onto a baking sheet, cut sides down, and roast in the oven for 25 minutes, or until the potatoes are tender throughout and crispy brown on the cut side.
3
Coat the venison tenderloin with olive oil and season liberally with salt and pepper. In a large cast iron pan, sear the meat for around 3 minutes on each side, and then let it rest for about 20 minutes.
4
Add all the remaining ingredients, from chives through to egg yolks, to a food processor and blend until you have a smooth green sauce that is very thick but still soft, and holds its shape when spooned out. Taste and add salt, pepper, and lemon juice to your liking.
5
Once it's rested, slice the venison into medallions a little over a half inch thick. To plate, mound a small pile of fingerlings on one side of each plate, fan 3-4 slices of venison alongside each, and top with 2-3 spoonfuls of the salsa verde.