Venison Striploin with Huckleberry-Balsamic Gastrique
Makes 4 Servings
WINE PAIRING
Pinot Noir
Venison, berries and vinegar are a classic combination, and this dish deliciously demonstrates why.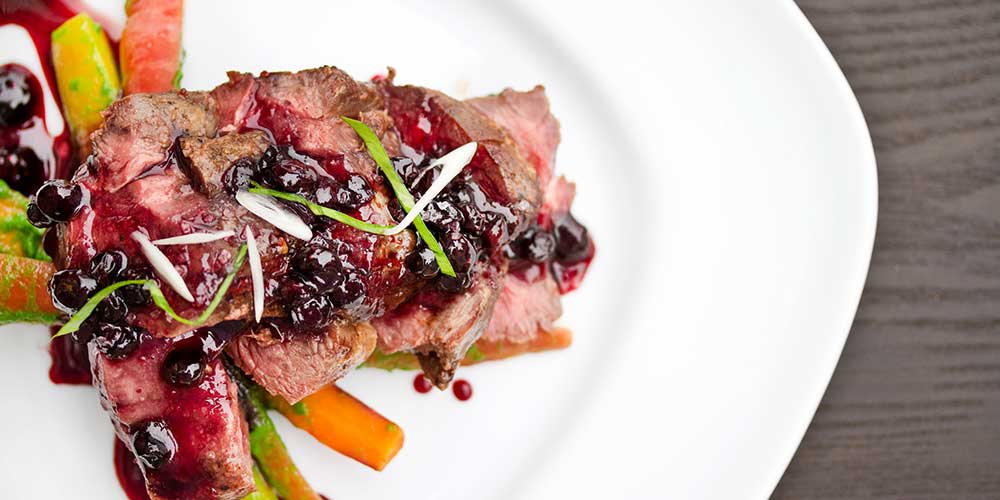 INGREDIENTS
1 tbsp Kosher Salt

½ tsp ground Black Pepper
DIRECTIONS
2
Preheat your oven to 500 degrees.
3
Get an oiled cast iron skillet (or oven-safe frying pan) hot over medium-high heat. Dry off any surface moisture from the loins and add them to the pan.
Sear
them on all sides.
4
Move the venison to the oven (in the pan) to roast until it reaches an internal temperature of 115 degrees (it will carry over cook to medium rare). Remove it from the oven and let it rest, loosely covered, for about 10 minutes.
5
While the venison's roasting, melt the rendered fat. Combine the sugar with enough of the liquified fat (bacon, duck, or goose fat) to give it the consistency of wet sand in a separate frying pan.
6
Put the frying pan on a burner set to medium. Add the vinegar, bring the mixture to a boil, stir & add the huckleberries.
7
Simmer until the sugar dissolves and the sauce thickens enough to coat the back of a spoon.
8
Serve the venison with the sauce and your choice of sides.