Sous Vide Venison Strip Loin with Cherry Sauce
Makes 6-8 Servings
WINE PAIRING
Napa Cabernet
Rich and fruity, this dish is another excellent demonstration of the synergies between venison and deep fruit flavors like cherry and pomegranate.
Sous vide is an excellent way to cook game meat because it can help keep very lean meat moist and cooked the way you want it. That's why we cooked this dish using a sous vide immersion circulator, but you could sear, then roast the venison instead.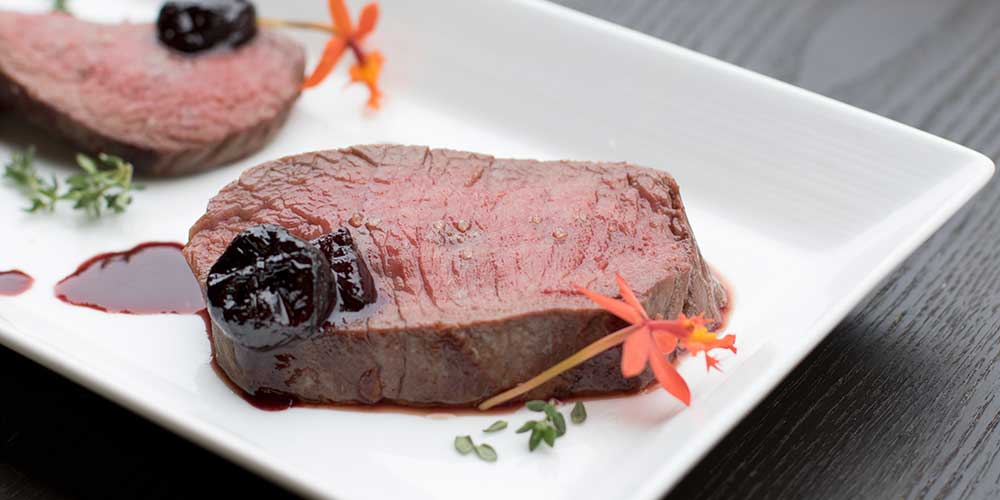 INGREDIENTS
1 Bay Leaf

1 sprig Fresh Thyme

1 tbsp Fruity Extra Virgin Olive Oil

Salt & Pepper
Cherry Sauce:

½ cup Frozen Sweet Cherries, thawed

½ cup of Juices from Frozen Cherry Package

1 Bay Leaf

2 sprigs of Fresh Thyme

1 cup Beef Stock

1 tbsp Pomegranate Molasses

1 tsp Sugar

1 tbsp Cognac

Salt to Taste
DIRECTIONS
1
Preheat your sous vide bath to 130°F.
2
Put the venison striploin in a vacuum bag with the bay leaf, thyme, salt & pepper. Vacuum seal.
3
Cook the venison in the sous vide bath for 1 ½ hours.
4
While the venison is cooking (near the end of the hour and a half) combine the cherry sauce ingredients (except the salt) in a small saucepan. Bring the mixture to a simmer and simmer to reduce it in volume for 10 minutes, or until it coats the back of a spoon.
5
When the venison is done cooking, cut the bag open and pour the juices into the cherry sauce. Reduce the sauce again back down until it coats the back of a spoon. Taste & add salt if necessary.
6
Sear the venison in a frying pan over high heat on all sides.
7
Slice the venison and serve it with the cherry sauce, garnished with the orchids and thyme.