Venison Skewers with Pomegranate & Tzatsiki
Makes 6 Servings
WINE PAIRING
Lambrusco
Venison skewers are a super easy, tasty appetizer that cooks in minutes.  While venison is commonly thought of as a winter meat, it's actually perfect for spring & summer meals because it's so lean & light on the palate.
Here we've paired it with a creamy, herby tzatsziki sauce and fruity, tangy pomegranate molasses.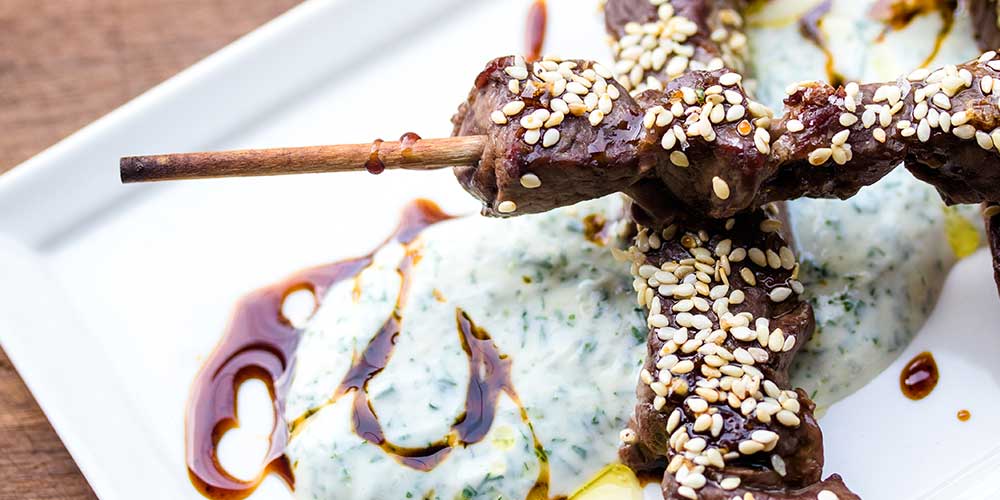 INGREDIENTS
1 cup Full Fat Greek Yogurt

½ cup Parsley Leaves, finely minced

½ cup Fresh Dill, finely minced

Lemon Juice to Taste

Salt to Taste

Touch of Freshly Ground Pepper
Pomegranate Molasses

Toasted Sesame Seeds
DIRECTIONS
1
Stir together all the tzatziki ingredients.
3
Dry off any residual moisture from the surface of the venison.
4
Spread the skewers out on a sheet of aluminum foil on a baking sheet. Broil them on the very highest rack until cooked to your preferred doneness – we recommend cooking them no further than medium rare (they'll cook quickly, so keep an eye on them!).
5
Serve the skewers with the tzatziki sauce, drizzled with a little pomegranate molasses, sprinkled with the sesame seeds.