Rack of Venison on Braised Beets with Horseradish Creme
Elegant and beautiful, this dish pairs the rich flavors and red color of venison racks and braised beets with a creamy, spicy horseradish crème.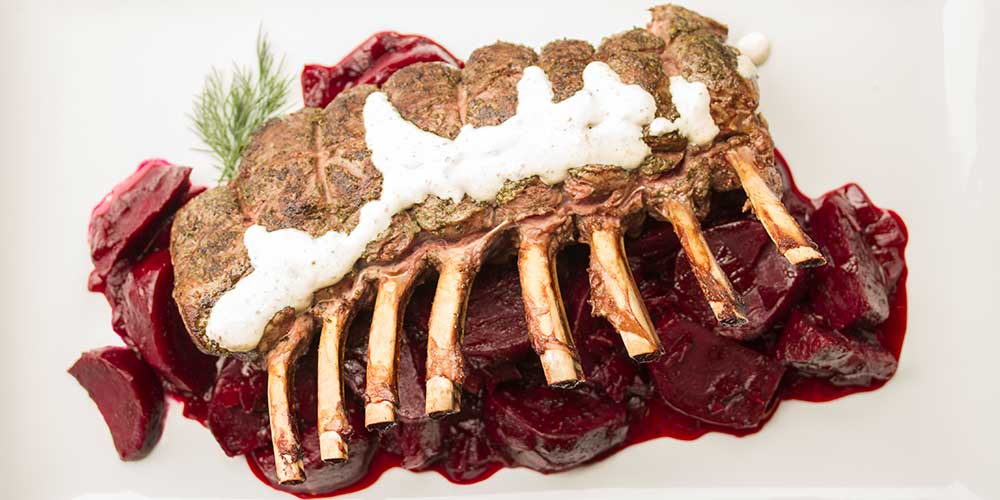 INGREDIENTS
8 Juniper Berries, crushed

2 Sprigs Fresh Rosemary

1 tsp Salt

¼ tsp Freshly Ground Pepper

1 Tbsp High Heat, Neutral Oil (Canola, Grapeseed or Safflower)
Roasted Beets:

2 Tbsp High Heat, Neutral Oil  (Canola, Grapeseed or Safflower)

1 Onion, medium diced

1 cup Red Wine

1 cup Beef Stock, Chicken Stock or Water

2 tsp Honey

4 Tbsp Red Wine Vinegar, divided

4 medium Red Beets, peeled and cut into ½-inch wedges

Pinch or two of Salt
Horseradish Crème:

3.5 fl oz Crème Fraîche

1 tsp Dijon Mustard

1 tsp Superfine Sugar

4 tsp finely grated Fresh Horseradish, or 2 tsp Prepared Horseradish

1/8 tsp Salt

3-4 grinds of Fresh Pepper
Optional: Fresh Dill or Rosemary Leaves for garnish
DIRECTIONS
1
Preheat your oven to 350°F.
2
Grind the juniper berries, rosemary, black pepper, and teaspoon of salt together in a clean coffee or spice grinder. Divide this spice blend in half.
3
Heat 2 Tbsp of the oil in an oven-proof skillet over medium-high. Add the chopped onion, and saute until it's soft and golden, then stir in the first half of the juniper-rosemary spice blend. Add the wine, the stock or water, two tbsp of the red wine vinegar, and the honey, and stir well.

Add the beets, bring to a boil, cover the pan, and transfer it into the oven to cook for 40 minutes. At that time, remove the lid, give the beets a quick stir, and cook for an additional 20 minutes uncovered.
4
Rub the remaining half of the spice mixture evenly over the venison rack. Set it aside at room temperature.
5
To make the horseradish crème, simply mix the crème fraiche, Dijon mustard, and sugar in a small bowl. Add the horseradish bit by bit, to your taste. It should be quite sharp and punchy, though, to offset the sweetness of the beets and the meaty venison.
6
When your beets are on their last 20 minutes of cooking, heat 1 Tbsp of oil in another ovenproof pan. When hot, sear the tenderloin on both sides, turning occasionally, until well browned. Put the pan into the oven and check after 7 minutes, temping it with a digital thermometer. Remove it from the oven as soon as it reaches an internal temperature of 130°F, tent it with foil, and let rest 6-8 minutes.
7
Once the beets are tender, stir in the remaining 2 tbsp of red wine vinegar to brighten them up.
8
To plate, spoon a stack of beets onto a plate or into a shallow bowl. Slice the venison into chops, and serve 2 of them over each serving of beets. Top with a dollop of horseradish crème, and garnish (if desired) with fresh dill or rosemary.