Venison Medallions with Grilled Eggplant & Chunky Salsa
Makes 6-8 Servings
WINE PAIRING
Barbera d'Asti
Here's a light but intensely flavorful dish that's perfect for summer.  Venison is extraordinarily lean, making it the perfect choice for summer grilling when you don't want something as heavy as a burger or a ribeye steak.
Here we've paired with grilled Japanese eggplant (smaller, but more more tender than the American variety) and an herby, tangy, spicy vinaigrette.
If it's too cold outside to grill, you can achieve somewhat similar results using a well-oiled grill pan over high heat on the stove.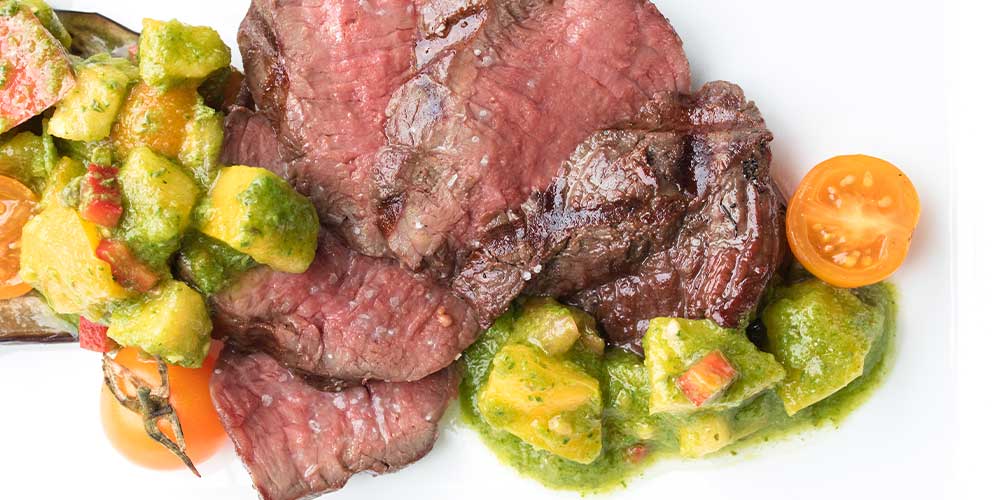 INGREDIENTS
4 Japanese Eggplants, cut into long planks
Salsa:

1 cup Fresh Flat Leaf Parsley

½ Fresh Jalapeno (including seeds)

½ cup Extra Virgin Olive Oil

2 tbsp Capers, rinsed

3 tbsp Sherry Vinegar

2 cups Chopped Heirloom Tomatoes

1 tbsp Wild Calabrian Oregano Leaves (could substitute a larger amount of conventional dried oregano)

1 Red Fresno Pepper, cored, seeded & minced

1 cup Sungold Tomatoes, halved (could substitute other cherry tomatoes)

¼ tsp Salt
DIRECTIONS
1
Oil & season the eggplant planks. Grill them on a hot, oiled grill until marked & cooked through.
2
Make the Salsa: Combine the parsley, jalapeno, olive oil, capers, salt & sherry vinegar in a blender & blend until smooth.
3
Pour this sauce base into a bowl & stir in the oregano, fresno chile, sungold tomatoes and chopped heirloom tomatoes.
4
Season the medallions liberally with salt. Sear them on a hot, oiled grill to your preferred doneness (we cooked ours to Medium Rare at 125-130°F, but the USDA recommends all farmed game meat be cooked to 160°F).
5
Remove the medallions from the grill & let them rest, loosely covered with foil, for ten minutes.
6
Slice the medallions & serve them with the grilled eggplant steaks and some of the salsa.