This tasty, simple recipe is a great way to make use of leftover raw venison.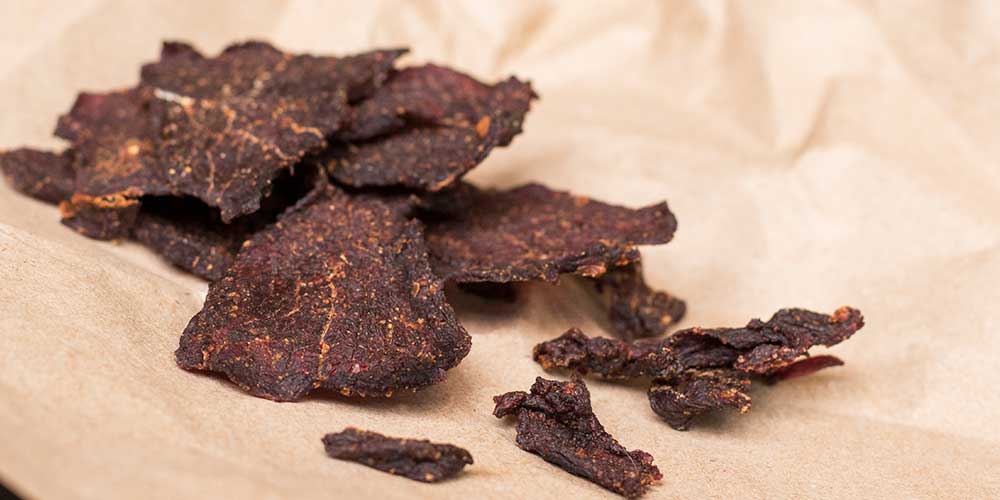 INGREDIENTS
1.25 lbs Venison (we used pieces from a Denver Leg)
½ Dried Ancho Chile (0.2 ounces)
1 large Dried Aji Amarillo Chile (0.5 ounces)

1 tsp Black Peppercorns

½ tsp Whole Allspice

½ tsp Aleppo Pepper

1 tsp Sea Salt

½ cup Tamari Soy Sauce

1 tsp Pink Salt / Instacure #1

Juice of 1 Lemon

2 Tbsp Sugar
DIRECTIONS
1
It's much easier to thinly slice meat when it's partially frozen. If you're using fresh venison, trim off any silverskin and then freeze it until it's becoming quite firm, typically 2-3 hours.
If you're using frozen venison, move it into the fridge overnight until it's thawed just enough that the interior is still quite firm but it can be worked with, and trim off any silverskin you can at this time.
2
Slice the venison thinly (1/6th to 1/4th of an inch is ideal), across the grain.
3
Break up the dried chiles into pieces. Heat a dry cast iron skillet over medium-high heat, and toast them, the black peppercorns, and the allspice until they become toasty and fragrant.
4
Transfer these ingredients into a clean spice or coffee grinder, add the Aleppo pepper and sea salt, and grind until you have a finely textured spice blend that smells wonderful.
5
Pour the spices over your thinly-sliced venison (glove up if you prefer), and really mix the meat around using your fingers to almost massage the meat (which will want to all stick together) so that the spices are spread over every piece.
6
In a separate bowl, add the tamari, pink salt / Instacure #1, lemon juice, and sugar, and mix all these very well with a whisk. Add the venison and again mix it with your hands to coat it very well with this marinade.
7
Tip the meat onto plastic wrap and wrap it tightly, or into a Ziploc bag and squeeze out the air as you seal it. Keep it in the fridge 24 to 48 hours.
8
Unwrap the meat and pull the pieces apart, laying them in a single layer, not touching each other, on dehydrator trays. Run your dehydrator at 160°F for two hours, then turn it down to 145°F and check after two more hours, until the jerky is the consistency you like.
9
Depending on how dry you take your jerky (since drier and more brittle jerky will last longer), it can be stored in the fridge for weeks, or vacuum-packed and stored at room temperature for up to three weeks (if pliable) or half of forever (if brittle dry).
The recipe is adapted from Hank Shaw of Hunter Angler Gardener Cook. The spice blend here is a new approach, but the fantastic method is all his.