Karen Oliver's Venison Appetizers with Horseradish Cream Sauce
This delicious recipe was kindly provided by Karen Oliver, a venison farmer in New Zealand.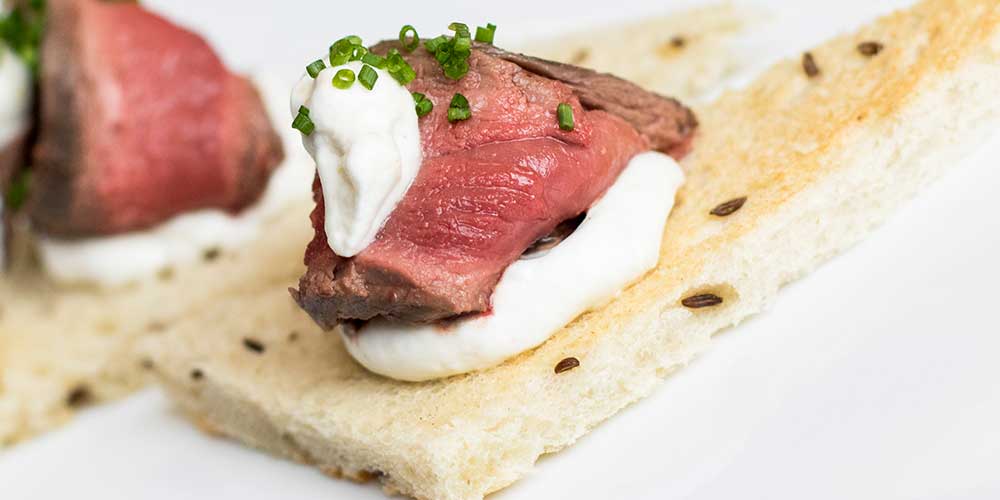 INGREDIENTS
1 Tbsp Olive Oil

Salt and Pepper
Horseradish Crème:

1 cup Heavy Cream

1 Tbsp Whole Grain Mustard

1 tsp Dijon Mustard

3 tsp Fresh Horseradish, or 1 tsp good quality prepared

1/4 cup Chives, sliced very thinly (reserve 2 tbsp for garnishing)

1/2 teaspoon Salt

Juice of one half Lemon

Zest of one Lemon
Rye Bread for toast circles or points
DIRECTIONS
1
Make the horseradish cream sauce the day before, if at all possible (the flavors will come through even better). Whisk the cream to a firm whip. Fold in the other ingredients, from the mustards down through the lemon zest, and stir well to incorporate them. Taste and adjust the lemon and salt to your liking. This will keep covered in the fridge for up to 3 days.
2
Coat the venison tenderloin with olive oil and season liberally with salt and pepper. In a large cast iron pan, sear the meat for around 3 minutes on each side, and then let it rest for about 20 minutes. Slice very thinly.
3
Slice the rye bread, and toast it lightly on a grill or in a toaster oven. Cut into points, or use a cookie cutter to press out bite-sized circles. Spread a bit of the horseradish cream on each, and top with a twirl of venison. Add a dollop more sauce on top, and sprinkle with chives.