Venison on Grilled Bread with Hazelnut Creme Fraiche and Lingonberry Jam
Makes 4-6 Appetizers or 2-3 Lunches
Simple yet decadent, these small bites are as at home on a picnic as a light lunch as they are being passed on silver platters as hors d'oeuvres. Enjoy!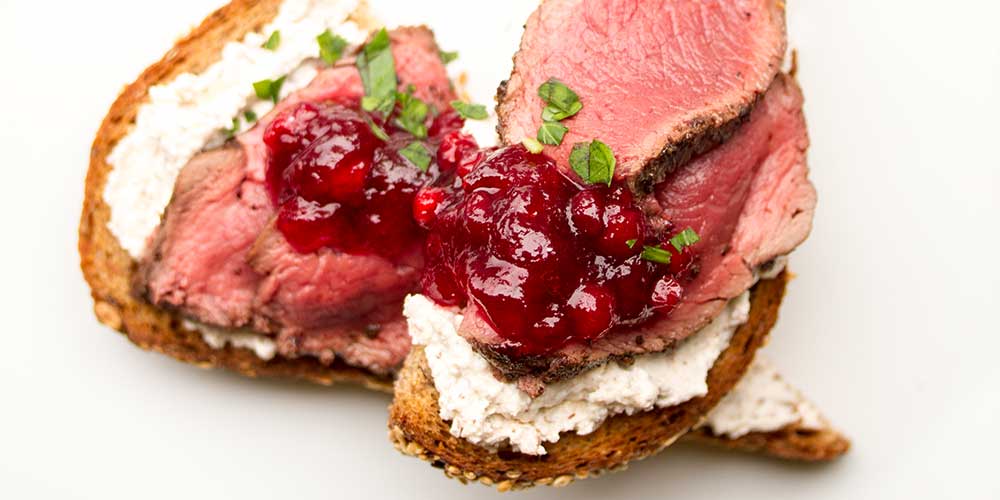 INGREDIENTS
1 Seedy or Pumpernickel Loaf

1 Tbsp Butter

1 tsp High Heat, Neutral Oil (safflower, grapeseed, canola, etc)

D'Arbo Lingonberry Jam

Good Quality Sea Salt
Crème Fraiche:
1/2 cup Hazelnuts

7 oz Creme Fraiche

1/8 to 1/4 tsp Salt, to your taste

1-2 squeezes of Lemon Juice
DIRECTIONS
1
Preheat your oven to 350°F.
2
Grind the spices and salt together in a clean coffee or spice grinder, and rub the blend evenly over the venison loin.
3
Heat the butter and oil in an ovenproof pan. When hot, sear the meat on both sides, turning occasionally, until well browned.
4
Put the pan in the oven and check after 7 minutes, temping it with a digital thermometer. Remove it from the oven as soon as it reaches an internal temperature of 130°F, tent it with foil, and let rest 10-15 minutes.
5
Add the hazelnuts to a blender or food processor and pulse until they're broken down into the texture of coarse sand. Add the crème fraiche and continue to blend until well incorporated.
6
Slice the seedy bread or pumpernickel thinly, and toast lightly on a grill or in a toaster oven.
7
Spread each piece of toast with the hazelnut crème fraiche. Slice the venison thinly, and lay strips atop the crème fraiche. Top each with a pinch of sea salt and a spoonful of lingonberry jam.
Adapted from Matthew Young's Brook Green Wild Food Market recipe