Venison Chops with Huckleberry Sauce & Grilled Corn
Makes 8 Servings
WINE PAIRING
Argentinian Malbec
Venison is practically tailor made for summer grilling, and this quick, easy recipe handily demonstrates why.  It brings a lot of flavor to the plate without a lot of work – the secret is using a premade huckleberry shrub as the sauce base.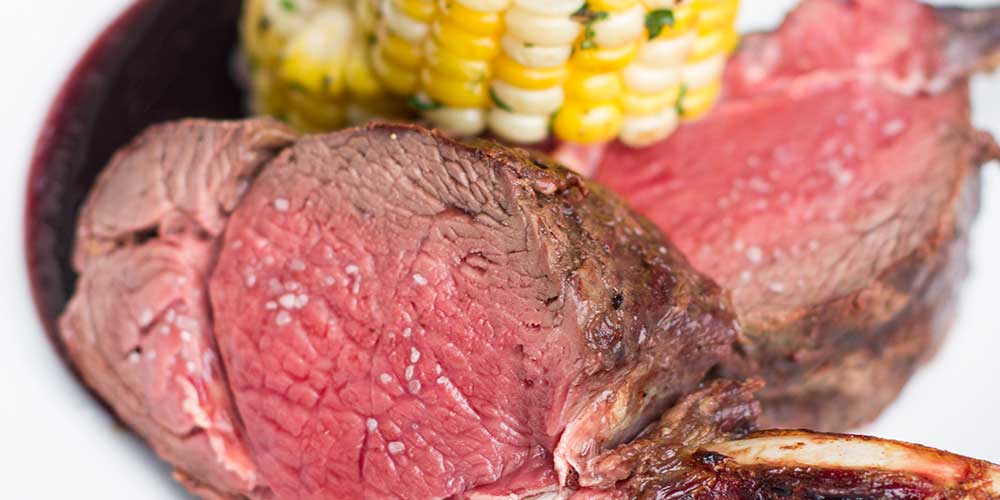 INGREDIENTS
Huckleberry Sauce:

1 bottle Huckleberry Shrub

1 tbsp Unsalted Butter

¼ cup juices from the Venison resting plate
8 Ears of Sweet Corn

2-3 sprigs each of Fresh Thyme, Sage, Rosemary and Parsley – tied into an Herb "Brush"
DIRECTIONS
1
Tie the herb brush to the end of a long handle or a pair of long tongs.
2
Simmer the huckleberry shrub in a small pot until it thickens enough to coat the back of a spoon. Stir in the unsalted butter.
3
Pat the venison racks dry & season them liberally with salt. Put the racks on the hot grill, and sear them to your desired doneness (we like ours cooked to 125-130°F, Medium Rare.  The USDA recommends cooking all farmed game meats to an internal temperature of 160F).
4
While the venison racks are grilling, grill the corn too, brushing both the meat and the corn with the herb brush.
5
When the venison is cooked to your liking, remove it from the grill and let the racks rest, loosely covered, for 15 minutes before slicing.
6
Slice the racks into chops & collect the juices that run out. Stir the juices into the huckleberry sauce.
7
Cut the charred herb leaves off of the "brush" and chop them, rubbing them over the corn.
8
Serve the venison chops with corn, drizzled with the huckleberry sauce.