Vegetarian French Onion Morel Soup
Rich, earthy, and completely vegetarian, this French onion soup is so full of flavor that you won't miss the veal stock (although you could substitute veal stock or 1 1/4 cup Le Québécois veal demi glace and 2 ½ cups water if you are a committed carnivore).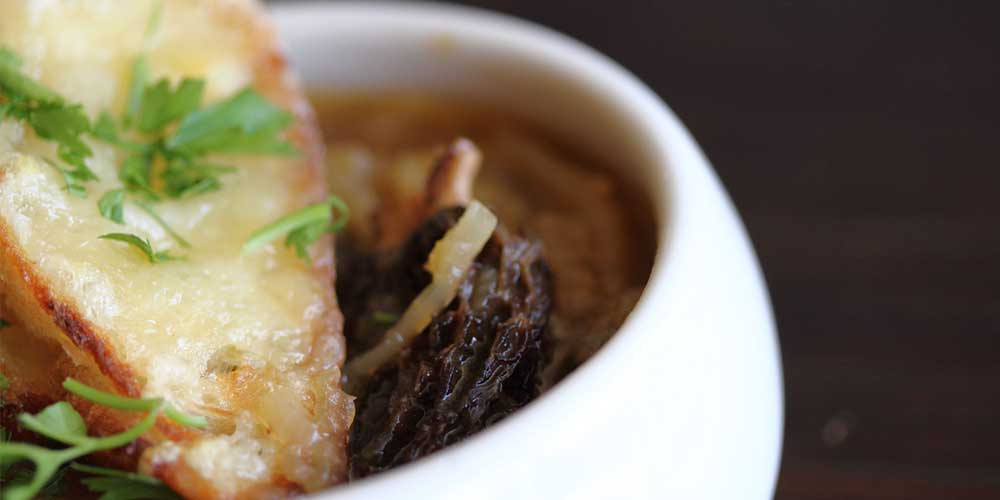 INGREDIENTS
4 tbsp Unsalted Butter, plus extra for spreading

3 medium Onions, sliced

3 ¾ cups Vegetable Stock

5 tbsp Cooking Sherry

8 medium Dried Morels or Fresh Morels, chopped

1 tsp Sherry Vinegar

4 slices French Bread

1 cup grated Gruyere or Fontina cheese

2 tbsp chopped Fresh Parsley

Salt & pepper to taste.
DIRECTIONS
2
Transfer browned onions to a large saucepan, cover with stock, and add sherry and the morels and simmer for 20 minutes. Add the vinegar and taste for salt & pepper.
3
Preheat the broiler to toast the French bread. Spread butter on the bread and heap with grated cheese. Broil the cheese toasts and place one in each warmed soup bowl and ladle the soup over top. Sprinkle with parsley. Serve.