Tenderloin of Veal with Persimmon Salad
Makes 2-4 Servings
WINE PAIRING
Brunello
Here we've paired roast veal tenderloin with a fruity, nutty, citrusy persimmon salad.  The fish sauce is a secret ingredient that you won't notice, but ups the umami of the salad.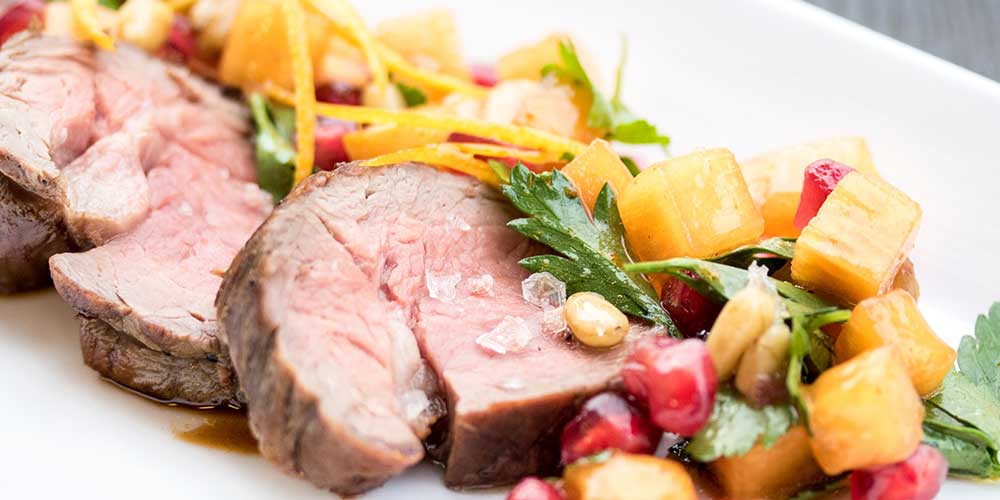 INGREDIENTS
4-6oz per person – Veal Tenderloin or Butt Tenderloin

Pomegranate Molasses
Persimmon Salad:

2 tbsp Fresh Flat Leaf Parsley Leaves

Arils (seeds) from ½ Pomegranate

¼ cup Pine Nuts, toasted

1 tsp finely sliced Orange Zest

2 Fuyu Persimmons, peeled & medium diced

1 tbsp Orange Juice

1 tsp Fish Sauce

1 tbsp Extra Virgin Olive Oil

1 pinch Flake Sea Salt

½ tsp Aji Amarillo Powder
DIRECTIONS
1
Preheat your oven to 350°F.
2
Remove the side muscle from the tenderloin. Truss the tenderloin (
watch this video
for the technique) to compact and round the meat.
3
Sear the tenderloin on all sides in a hot oiled skillet until it develops a nice brown crust.
4
Move the skillet to the oven and roast until the tenderloin reaches an internal temperature of 120°F.
5
When the tenderloin has cooked, remove it from the oven and the pan. Let it rest on a plate, loosely covered with foil) for 10 minutes before slicing.
6
Combine all the salad ingredients in a large bowl.
7
Cut the twine from the tenderloin & thinly slice it.
8
Serve the tenderloin pieces over a swoosh of pomegranate molasses, topped with the persimmon salad.