Veal Striploin with Fish Sauce Caramel, Mushrooms & Bok Choy
Makes 2-4 Servings
WINE PAIRING
California Chardonnay
This SE Asia-inspired dish takes veal in a new & exciting direction. Don't let the words "fish sauce caramel" scare you off, or you'll be missing out. The finished caramel doesn't taste fishy so much as it tastes deliciously savory, enhancing the natural flavor of pastured veal striploin.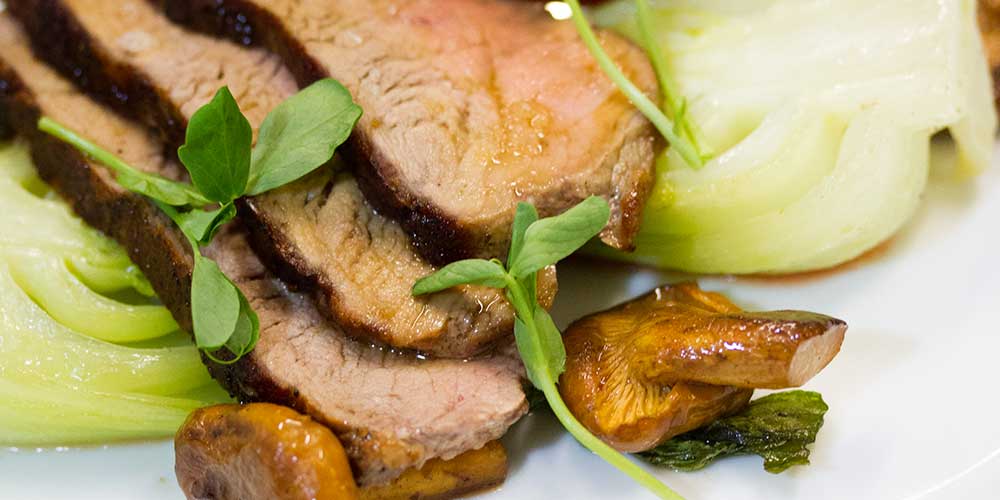 INGREDIENTS
Red Boat Fish Sauce (could substitute other fish sauce)

½lb Mushrooms (we used Fresh Chanterelles)
Sauce:

¼ cup Granulated Sugar

2 tbsp Unsalted Butter

2 tbsp Fish Sauce (we used Red Boat Fish Sauce)

3 tbsp Kabosu Juice

½ cup Water
Roasted Bok Choy:

10 Baby Bok Choy

Olive Oil

Salt & Pepper
DIRECTIONS
2
Preheat your oven to 400˚F.
3
Cut the baby bok choy in half. Toss them with olive oil, salt & pepper.
4
Spread the bok choy out on parchment paper on a baking sheet, cut side down. Roast them in the oven until they're tender, flipping them once.
5
Season the striploin portion with salt & pepper. Sear it on one side in a hot oiled pan. Flip the striploin over and move the pan to the oven to roast to your desired doneness (we cooked it to 140F).
7
When the striploin has reached your desired doneness, remove it from the oven and let it rest for 10-15 minutes, loosely covered with foil, before slicing.
8
Caramelize the sugar in a saucepan until it turns a deep amber, almost reddish brown. Remove the pot from the heat and stir in the butter.
When the butter is incorporated, stir in the other ingredients. The sugar will clump up. Return the pot to the heat and stir until the mixture forms a sauce again.
9
Slice the striploin thinly & serve with the bok choy and the mushrooms, drizzled with the caramel sauce.