Makes 4-6 Servings
WINE PAIRING
Amarone
Succulent veal striploin steaks paired with a tart-sweet Italian agrodolce sauce.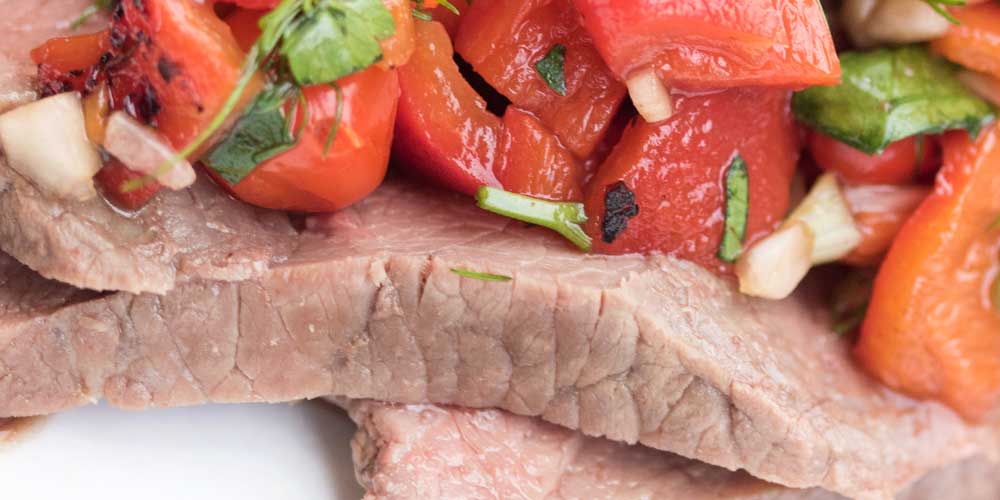 INGREDIENTS
2lbs Veal Striploin

¼ cup Golden Raisins

½ cup Ruby Port

2 large Roasted Red Peppers, chopped

3 tbsp Flat Leaf Parsley, chopped

2 tsp minced Garlic

1/2 cup Beef Stock (lowest sodium possible)

1/2 cup Fennel Bulb, minced/brunoised

Fennel Fronds from the Bulb, chopped

2 tbsp Balsamic Vinegar (we recommend Vigna Bordo)

1 tbsp Piloncillo

¼ cup Peruvian Pickled Peppers
DIRECTIONS
1
Heat the port wine in a small saucepan on the stove until hot, then add the raisins & remove from the heat.
2
Preheat your oven to 350°F.
3
Remove the silverskin (how to remove silverskin) along with the chain meat and any other muscles attached to side of the strip (for a cleaner presentation).
4
Slice the striploin portion into 1 ½" thick steaks.
5
Sweat
the garlic in a little oil.
6
Put the roasted peppers in a bowl with the chopped parsley, raisins from the port, fennel bulb, fennel fronds & the sweated garlic.
7
Season the veal steaks with salt & pepper. Move them to a hot oiled skillet over high heat and sear them until the bottoms brown.
8
Flip the steaks & move the skillet to the oven. Roast them until they reach an internal temperature of 130°F (for medium rare).  Remove the pan from the oven and put the steaks on a plate, loosely covered with foil, to rest.
9
Pour the port from soaking the raisins into a bowl with the beef stock, piloncillo and balsamic vinegar. Port this mixture into the veal pan to
deglaze
along with any accumulated juices from the veal resting plate.
10
Heat the skillet, scraping the fond off of the bottom, and continue to simmer until the liquid's volume is reduced to a half cup.
11
Pour the liquid over the raisin (agrodolce) mixture in the bowl. Toss to coat.
12
Slice the strip steaks & serve them topped with the agrodolce.