Pan-Seared Schnitzel with Spaetzle and a Celery Root & Asian Pear Salad
Makes 4 Servings
WINE PAIRING
Gruner Veltliner
Breaded & pan fried schnitzel is a classic veal dish. Here we've paired it with buttery sautéed spaetzle (tiny German dumplings) and a crisp celery root & Asian pear salad.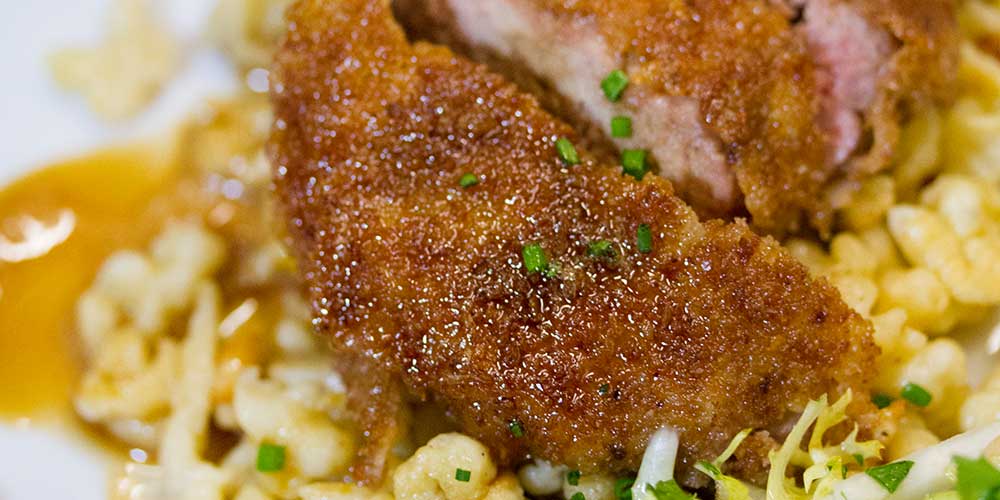 INGREDIENTS
Eight veal cutlets 

3 tbsp Unsalted Butter

2 tbsp minced Fresh Chives

All Purpose Flour

2 Eggs

Bread Crumbs

Mustard
Salad:

1 Celery Root

1 Asian Pear

1 cup Chopped Frisee

½ cup Chopped Parsley

¼ cup Marcona Almonds, chopped

2 tbsp Olive Oil

2 tbsp Seasoned Rice Wine Vinegar
Spaetzle Batter:

1 cup All-Purpose Flour

2 Eggs

1/4 cup Whole Milk

1 tsp Salt

1/2 tsp Ground Black Pepper

1/2 tsp Ground Nutmeg
DIRECTIONS
1
Julienne the Asian pears & put them water with a little bit of acid (lemon juice, vinegar, etc).
2
Peel the celery root and cut the ends off as necessary so that you're left with a cube shape. Julienne the cube and hold it in water with a little bit of acid.
3
Make the Spaetzle: Mix together the flour, salt, ground pepper and nutmeg. Beat the eggs and add them, with the milk, to the dry ingredients. Stir to combine. The resulting batter should have an extra-thick pancake batter-like consistency.
4
Bring a pot of salted water to a boil. Working in batches, press the batter through a spaetzle maker or colander into the water. Taste each batch for doneness. When it's done, use a mesh strainer or spider to scoop the spaetzle from the water and drain. Then cook another batch.
5
Run cold water over the cooked spaetzle.
6
Set up a three-step breading station with a bowl each of flour, beaten egg, and bread crumbs.
7
Melt the butter in a skillet along with the minced chives. Saute the spaetzel in the butter and chive mixture, tossing frequently, until coated & until lightly browned.
8
Season the cutlets with salt and pepper, then dip them in the flour to coat. Dip the floured cutlets in the beaten egg, then in the bread crumbs to coat.
9
Pan fry the cutlets in an oiled skillet until crispy on both sides.
10
Remove the Asian pear and celery root pieces from the water and toss them with the frisee, parsley, olive oil, rice wine vinegar and marcona almonds.
11
Serve the schnitzel with the spaetzel, salad, and some mustard on the side.