Sous Vide Veal Osso Bucco with Risotto Milanese
Risotto Milanese is a version of the swoon-inducing-ly creamy rice dish suffused with saffron, one of the world's most luxurious spices.  Its earthy, bittersweet flavor and bright yellow color make it a traditional counterbalance to the deep, rich flavors and dark colors of braised veal osso bucco.
We've prepared the osso bucco sous vide here, as slow-cooking it for 48 hours does wonderful things for the texture.  However, you could also adapt this recipe for a more traditional braising technique.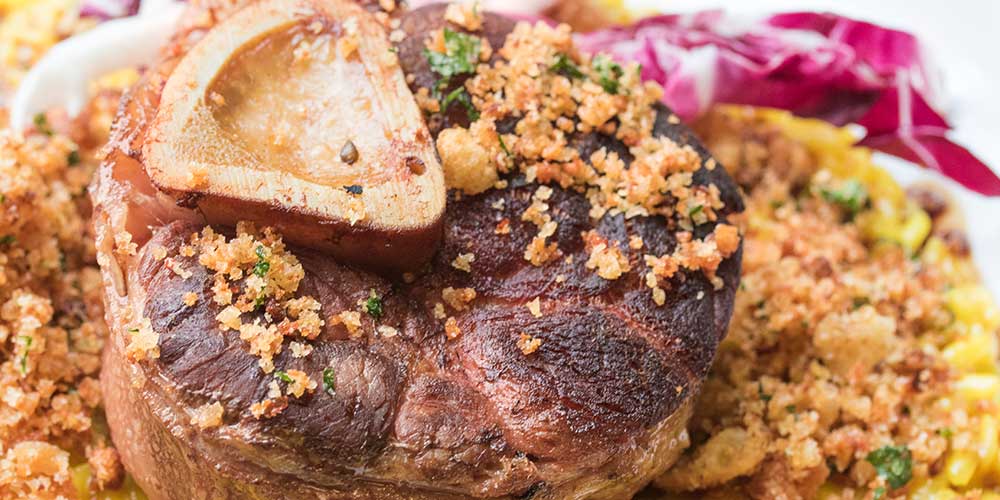 INGREDIENTS
Braising Liquid:

1 bottle Red Wine

2 cups Beef Stock

1 bunch Fresh Thyme or Rosemary

Zest of 1 Orange

1 Onion, roughly chopped
Risotto Milanese:
2 cups Carnaroli Rice

1 Onion, finely diced

¼ bottle White Wine

1 tsp Saffron Threads

8 cups Vegetable Stock

3 tbsp Unsalted Butter
Garnish:

Breadcrumbs

Orange & Lemon Zest (in very fine shreds – preferably microplaned)

Finely Shredded (Chiffonaded) Parsley

Salt & Pepper to Taste
DIRECTIONS
1
Preheat your sous vide rig to 142°F.
2
Vacuum bag the osso bucco with all the braising liquid ingredients. If you don't have a professional chamber vacuum, you have two options. You can use a Ziplock-brand zip top bag with the air removed (this brand is known to be sous vide safe).
Alternatively, you can mix together the braising liquid ingredients, pour them into smaller sous vide bags, and freeze them until the liquid won't be sucked into the vacuum pump of a home vacuum machine (like a Foodsaver).  Add the osso bucco pieces and vacuum seal the bags.
3
Braise the osso bucco sous vide, ideally for 48 hours.
4
Add the finely diced onion to an oiled frying pan and
sweat
it over medium-low heat until translucent.
5
Add the rice to the pan, increase the heat to high & stir frequently. Cook just until the rice starts to smell nutty.
6
Add the white wine to the pan and stir, continuing to cook until it has evaporated.
7
Add the saffron to the rice, then start adding the vegetable stock a cup at a time, stirring periodically. Do not add an additional cup of stock until the previous cup has been absorbed.
8
When the rice is tender (12-15 minutes), allow it to sit, off the heat for 2-3 minutes. Stir in the butter.
9
Remove the osso bucco from the vacuum bags & pat it dry. Sear it in a hot, oiled pan, turning frequently, just long enough to develop a browned crust on all sides & render out some of the marrow.
10
Put a hearty helping of the risotto on each plate & top it with a portion of osso bucco. Sprinkle the dish with bread crumbs, parsley and the citrus zests.  Drizzle with a little oro nero balsamic vinegar & serve.