Seared Veal Rib Chops with Butternut Squash & Pepita Brittle
Here Frenched veal chops are paired with classic fall flavors of apple cider, bitter greens, butternut squash & sage.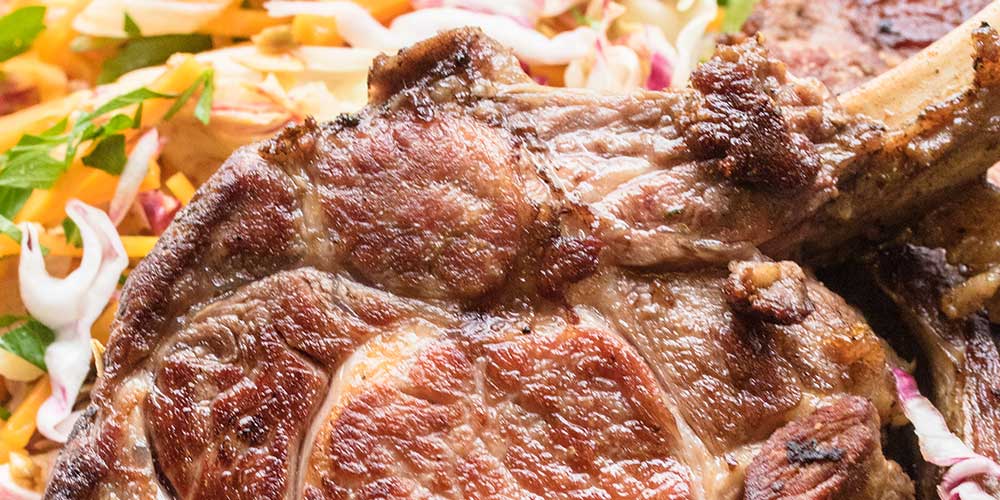 INGREDIENTS
¼ cup Neutral-Flavored Oil

2 tbsp Unsalted Butter

1 Fresh Sage Leaf
Butternut Puree & Salad:

1 Medium Butternut Squash

¼ cup Apple Cider Vinegar

1 head Castelfranco Raddichio (could substitute Treviso Raddichio or other Bitter Green)

½ cup Cream

¼ cup Neutral-Flavored Oil
Pumpkin Seed (Pepita) Brittle:

½ cup Granulated Sugar

1 cup Raw Pumpkin Seeds (Pepitas)

1 tbsp Unsalted Butter
DIRECTIONS
1
Peel the butternut squash and separate the straight "stem end" from the round "gourd end."
2
Using a mandolin with a julienne attachment, shave the "stem" portion of the squash into very thin strips. Season the strips liberally with salt and set them aside to cure (the salt will break down the very thin pieces and allow you to eat it raw).
3
Cut the raddichio into thin wedges.
4
Once the squash strips have softened, toss them with the apple cider vinegar & the wedges of raddichio.
5
Cut the gourd portion of the butternut squash into small cubes. Add them to a small saucepan with a ¼ cup of the oil. 
Sweat
them until they start to soften.
6
Add the cream to the pan and bring it to a simmer. Simmer until the squash cubes are very tender (enough to fall apart with the pressure of a fork).
7
Blend the squash and cream mixture into a smooth puree with a blender or immersion (stick) blender.
Make the Pumpkin Seed Brittle
8
Add the sugar to a saute pan with just enough water so that the mixture resembles wet sand.
9
Heat the saute pan over a medium-high burner and bring to a simmer. Once it starts to take on color, add the pumpkin seeds.
10
Stir constantly until the sugar seizes and crystalizes, then continue to cook. The sugar will become slightly more liquid and then begin to brown.
11
Once the mixture has turned a caramel color, immediately pour it from the pan onto a non-stick surface like parchment paper or (ideally) a silicon baking mat. Allow it to cool completely.
12
Heat the remaining ¼ cup of oil in a large frying pan or skillet over medium high heat. Season each chop liberally with salt & pepper.
13
Gently lay the veal chops into the pan and sear them, flipping as necessary, until they're cooked to your preferred doneness (roughly 4-5 minutes for medium rare).
14
Once both sides have browned, add the butter to the pan along with the sage leaf. Continue to cook, basting the chops with the melted butter, until the butter browns and begins to smell nutty.
15
Remove the pan from the heat and remove the chops from the pan. Loosely cover them with foil and let them rest for 5-10 minutes before serving them, sliced or whole, with the squash salad, squash puree, and the brittle.