Veal Carpaccio with Parmesan Crisps & Microgreen Salad
WINE PAIRING
Orvieto
Elegant and delicious, this dish pairs wafer thin, delicate raw veal with parmesan crisps and truffle oil. A lemon microgreen salad helps brighten the dish and balance the truffle.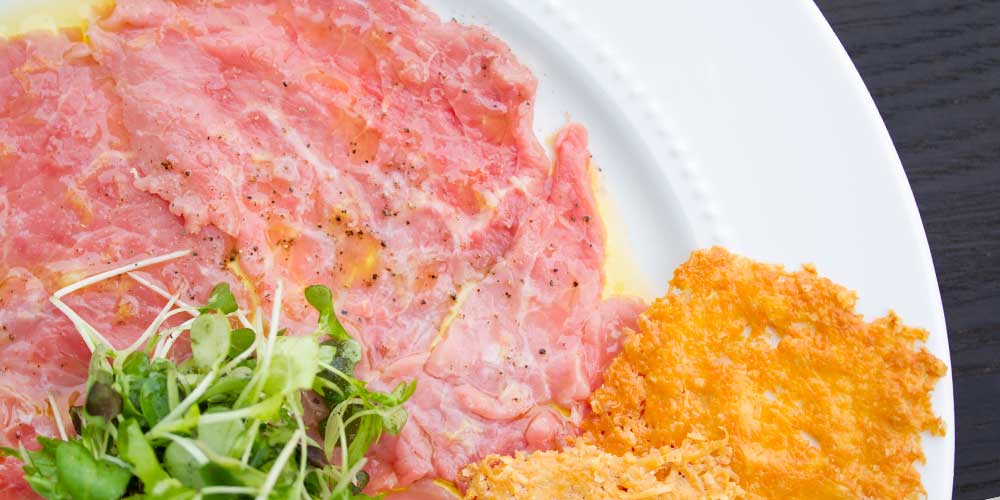 INGREDIENTS
¼ cup microgreens)

½ tsp finely grated (microplaned) Lemon Zest

1 tsp Lemon Juice

1 tbsp Fine Extra Virgin Olive Oil

¼ tsp Selezione White Truffle Oil (or other all natural truffle oil)

Crunchy Flake Sea Salt

Black Pepper
DIRECTIONS
1
Preheat your oven to 350 degrees.
2
Sprinkle each serving of the parmesan cheese on a silicone baking sheet in three round piles per serving (you may have to work in batches). Move the pan to the oven and bake until they melt into what look like crackers & brown (about 20 minutes).
3
Cut thin disks of the veal. Place a disk between two pieces of plastic wrap and pound it with a meat pounder (or, in a pinch, a wide glass). Strike glancing blows that slide out away from the meat to pound it thin while extending it out into a sheet.
4
Lay the sheets of veal out on plates, then chill in the freezer until very cold.
5
Remove the plates from the freezer. Top each one with the olive oil, salt, lemon juice, lemon zest and truffle oil.
6
Dab your fingers with olive oil and use them to toss some of the microgreens with a touch of salt for a very lightly dressed microgreen salad. Top the center of the carpaccio with the salad.
7
Finish each plate with three parmesan crisps and black pepper to taste.