Veal Tenderloin with Black Garlic Balsamic Vinaigrette
WINE PAIRING
Syrah
Roast portions of veal tenderloin paired with mustard greens, pickled mustard seeds, and a savory-sweet-tangy black garlic vinaigrette.  The honey in the wilted mustard greens holds back their bite so that they're bitter, but not overpowering.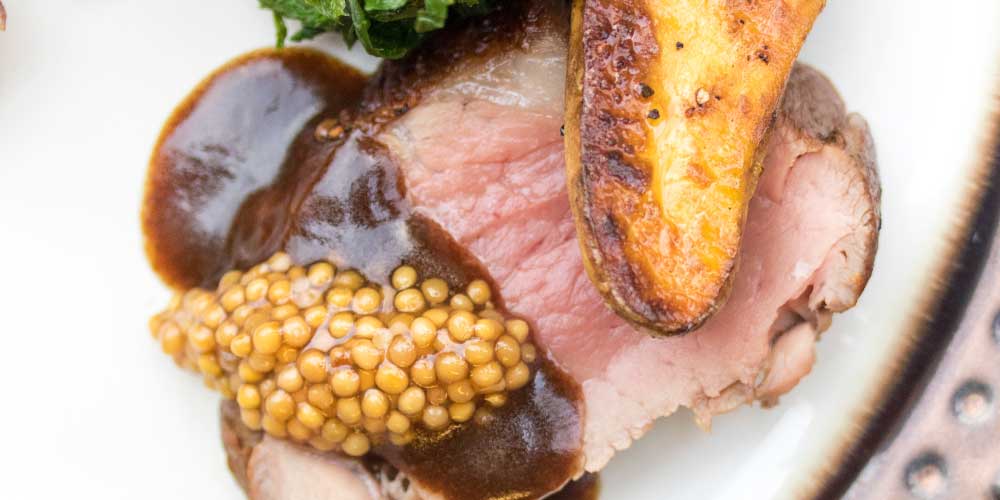 INGREDIENTS
4-6oz per person – Veal Tenderloin or Veal Butt Tenderloin

1 bunch Mustard Greens, stalks removed & leaves chopped

1 tsp Honey
Black Garlic Vinaigrette:

½ cup Olive Oil

1 head Black Garlic
½ cup Balsamic Vinegar

1 tsp Honey (we used Shipwreck Wildflower Honey)

1 tsp Dijon

1 pinch Salt
DIRECTIONS
1
Preheat your oven to 350°F.
2
Remove the side muscle from the tenderloin (you can cook it separately as a snack). Truss the tenderloin (
watch this video
for the technique) to compact and round the meat.
3
Sear the tenderloin on all sides in a hot oiled skillet until it develops a nice brown crust.
4
Move the skillet to the oven and roast until the tenderloin reaches an internal temperature of 120°F.
5
Remove the black garlic cloves from the bulb of garlic.
6
Blend together the black garlic cloves, the mustard, the salt, the honey, and the balsamic.
7
Pour the mixture into a bowl and slowly drizzle in the olive oil, whisking constantly.
8
Wilt the mustard greens in a wide, oiled skillet. Season them with salt and the tsp of honey.
9
When the tenderloin has cooked, remove it from the oven and the pan. Let it rest on a plate, loosely covered with foil, for 10 minutes before slicing.
10
Cut the twine off of the tenderloin, and thinly slice it.
11
Plate the tenderloin pieces with some of the wilted greens, roasted fingerling potatoes (if you're using them) and pickled mustard seeds.
12
Drizzle the plate with some of the black garlic vinaigrette.