Halibut & Clams with Black Pepper and Vanilla Butter
Makes 4 Servings
WINE PAIRING
California Chardonnay
This dish is smooth, floral, buttery & luxuriously tender. Vanilla accentuates the natural sweetness of the butter and seafood, but the dish's richness is cut with intermittent bites of pepper heat.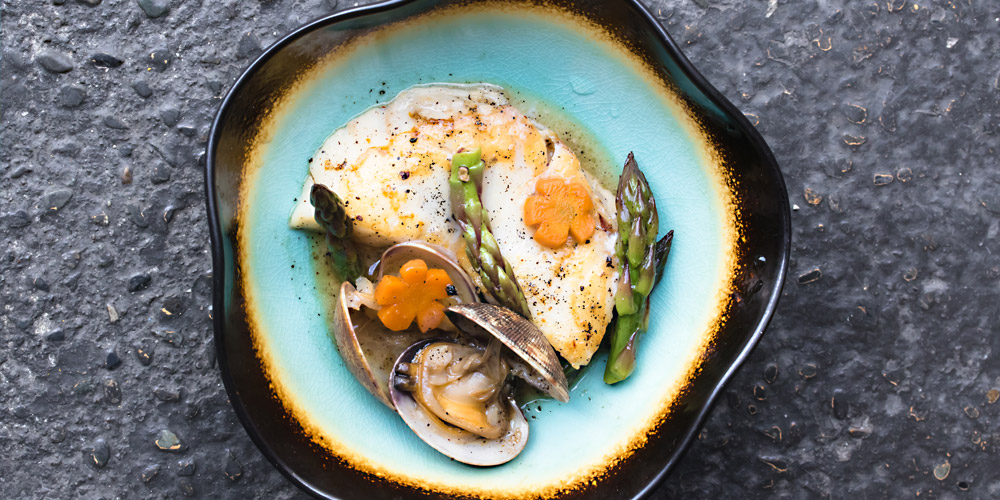 DIRECTIONS
1
Melt the butter in a small saucepan with the vanilla pod and vanilla seeds over medium-low heat.
2
Continue to cook gently for 3 minutes, then strain out the vanilla pod.
3
Get the high heat oil very hot in a large frying pan or cast iron skillet over high heat.
4
Season the halibut with salt & sear it on one side until browned. Remove it from the pan.
5
Pour the strained butter into a separate large pan over low heat. Cook until the butter develops brown specks and smells nutty.
6
Pour the clams into the butter (be careful, this may cause the butter to spit) followed by the white wine, black pepper, and asparagus tips.
7
Cover the pan and cook until the clams open.
8
Remove the lid from the pan & add the halibut pieces, seared-side-up. Cook them in the simmering clam juices & wine, spooning the liquid over them. They shouldn't need to cook more than a minute.
9
Stir in the lemon juice.
10
Serve portions of halibut, clams, and asparagus with some of the juices spooned over the top.