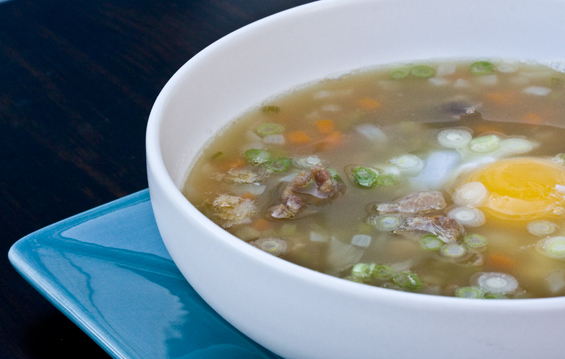 Turtle Soup Recipe with a Poached Duck Egg

(serves 4-5)
This mild soup showcases the flavor of snapping turtle meat while adding the richness and creaminess of a poached egg.
Ingredients:
1lb of boneless turtle meat, defrosted
2 qt veal or chicken stock
½ cup celery – chopped fine
½ cup carrot – chopped fine
1 cup onion – chopped fine
¼ cup dry sherry – manzanilla
1 clove garlic diced fine
1 bay leaf
2 sprigs fresh thyme
1 lemon
4-5 duck eggs (can substitute chicken eggs)
1 bunch green onions
Cooking Instructions:

Pre-cook turtle meat
1. Roughly cube the defrosted turtle meat

2. Add it to salted boiling water (use a large pot to keep it from boiling over) and boil for 45 minutes. Skim off any impurities that float to the surface.

3. Strain out the turtle meat and reserve it for later inclusion in the soup.
Construct the soup base
1. Pour your stock into a large sauce-pan and simmer about 10-15 minutes to concentrate its flavor.
2. Add the finely diced onions and garlic to the simmering stock, followed a short while later with carrots and celery (cooking them less to maintain texture/flavor).
Add the turtle and additional seasoning
1. Add the cooked turtle meat, bay leaf and thyme. Simmer for five to ten minutes.
2. Add the sherry and salt/pepper to taste. Continue to simmer until the turtle meat is tender (about 10 minutes).
Garnish and serve
1. Remove the bay leaf.
2. Move the soup to bowls, garnishing each with thinly sliced raw green onions, a spritz of lemon juice and a poached egg. For tips on poaching eggs, please visit our blog post: How to Poach an Egg.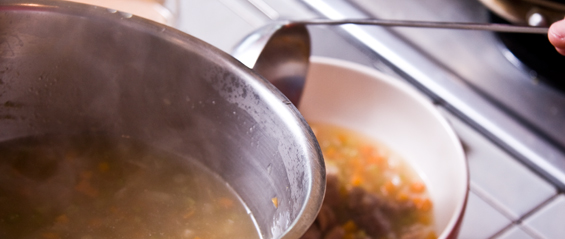 ___________
Browse More:
Meat Recipes