Truffled Lemon Pasta with Bacon & Chickpeas
Makes 4 Servings
WINE PAIRING
Rosé
This dish is a study in decadence balanced with bright flavors. On one side you have rich, swoon-inducing bacon and truffle. On the other – fresh mint, lemon, pea tendrils and fresh chickpeas.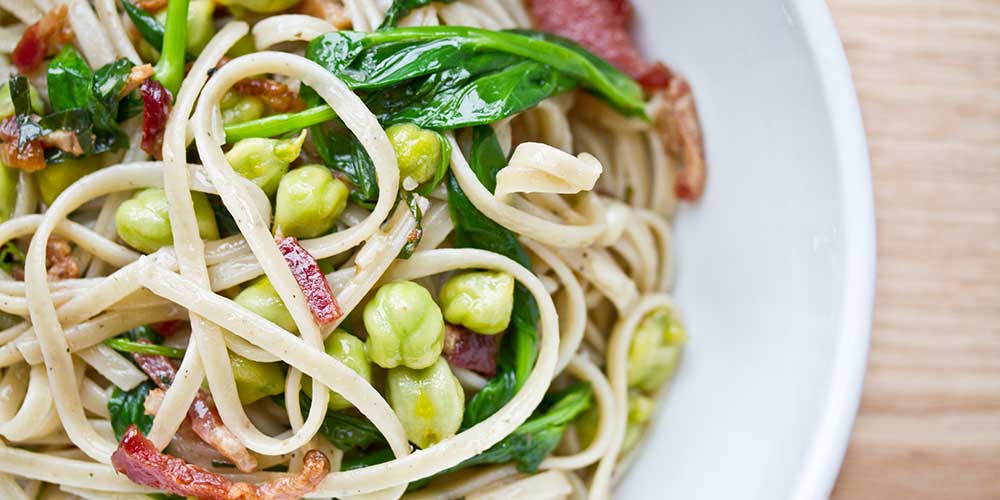 DIRECTIONS
1
Blanch the garbanzo beans in salted boiling water for about two minutes. Drain off the water & move the beans to a bowl of ice water to cool them off. Once they're no longer hot, drain off the water.
2
Render the fat out of the bacon in a frying pan over low heat. Once the bacon has crisped, remove it and the fat from the pan. Reserve the bacon & add 1 tablespoon of the bacon fat back into the pan.
3
Cook the linguini in salted
boil
ing water until al dente.
4
In the bacon pan, cook the onion/ramps until translucent, then add the blanched garbanzo beans.
5
Deglaze the pan with the white wine.
6
Stir in the truffle butter, reserved bacon, lemon juice and pea tendrils. Add salt & pepper to taste.
7
Add the drained pasta to the pan and toss to coat. Stir in the fresh mint & truffle oil. Serve.