Potato salad without the mayo, and instead fortified with deliciousness from fried prosciutto, garlic scapes (if you have them) and truffle. Yummy!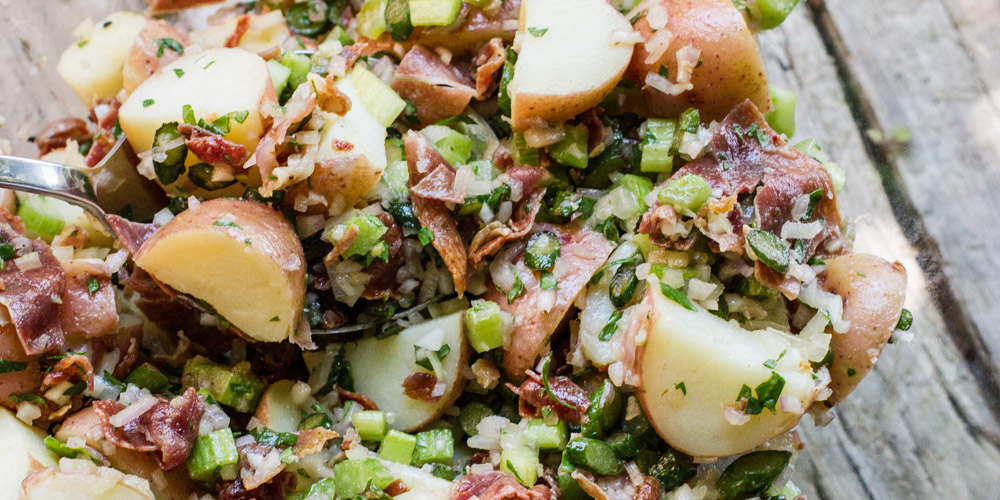 INGREDIENTS
2 pounds Red New Potatoes

2 cups Chicken Broth

Water, as needed

2 Tbsp (1/4 stick) Butter

1 4 oz package sliced Prosciutto, chopped

1/4 cup Garlic Scapes, finely chopped (could substitute green onions)

2 ribs of Celery, sliced thinly on a bias

1/4 cup Shallots, minced

1/4 cup Sweet Onion, finely diced

1/2 cup fresh Chives, chopped

1/4 cup Italian Parsley, chopped

1 Tbsp Truffle Oil, plus more to taste
1 tsp Truffle Salt, plus more to taste
DIRECTIONS
1
Wash the potatoes well, and then quarter them if they're small or dice them if they're a bit larger. Place them in a large saucepan, add the chicken broth, and then add water as needed to cover the potatoes by one inch. Bring to boil. Reduce the heat to medium and simmer just until the potatoes are tender. Drain and place in a large bowl.
2
Melt the butter in a nonstick skillet over medium heat. Add the prosciutto and sauté until crisp, about 6 minutes. Add the prosciutto to the potatoes, and use the remaining butter to briefly saute the garlic scapes over high heat, for no more than a minute, until softened just slightly. Add the scapes and the butter from the skillet to the potatoes.
3
Add the celery, shallot, sweet onion, chives, and parsley to the potatoes.
4
Drizzle the truffle oil and sprinkle the truffle salt over the potato mixture, and toss to coat. Season to taste with pepper, and more truffle salt and truffle oil, if desired. Serve warm or at room temperature.