Truffle Cream Pasta Sauce
Makes 4 appetizer Servings
Creamy, truffle-y and easy, this simple sauce satisfies truffle urges using affordable truffle products. We served it atop black truffle tagiolini, but you could substitute plain tagiolini, linguini or spaghetti.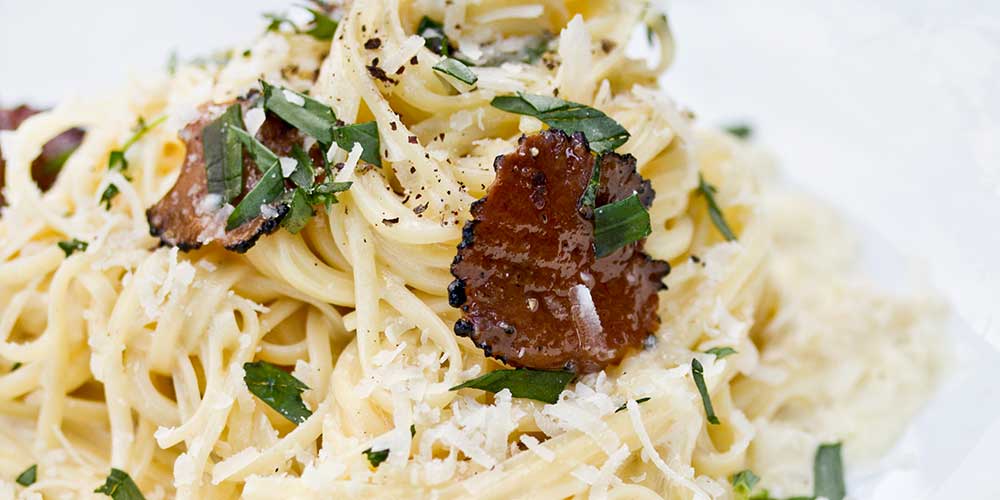 INGREDIENTS
4 tbsp Unsalted Butter

¼ cup Minced Shallots

3 tbsp White Wine

1 cup Chicken Stock

1 cup Heavy Whipping Cream

Black Truffle Oil to taste
Fresh Tarragon, chopped

Parmesan Cheese

Salt & Pepper to Taste
DIRECTIONS
1
Melt the butter in a frying pan & add the minced shallots. Cook over low heat until the shallots soften. Increase the heat to medium, add the white wine & cook to reduce.
2
Add the cream and chicken stock to the pan. Gently
simmer
, stirring occasionally until thickened enough to coat the back of a spoon.
3
Toss the cooked pasta with black truffle oil to taste (we used 1 ¼ tsp -1 ½ tsp of
Selezione black truffle oil
, but brands vary in strength).
4
Add the oiled pasta to the sauce & toss to coat. Serve with parmesan, tarragon & (if desired) truffle slices.