Truffled Mushroom, Gruyere & Cheddar Mac n' Cheese
Yes, this dish is just as luxurious, rich, and decadent as it sounds.  Enjoy!
Instead of baking the whole batch in a large baking dish, as we have, you could also bake individual serving potions in ramekins.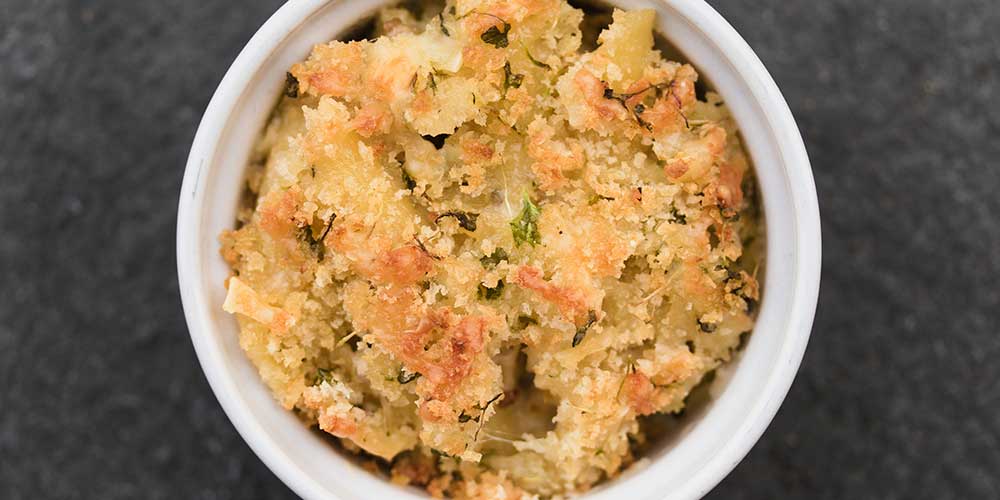 INGREDIENTS
1lb Gruyere, grated

1/2lb White Cheddar, grated

¼ cup minced Shallot

½ stick of Unsalted Butter

½ tsp Salt

6 Cremini Mushrooms, minced

2 Bay Leaves

1 1/2oz Truffle Sauce, plus extra, if desired, to taste

¼ cup All Purpose Flour

4 cups Whole Milk

1/2 tsp Truffle Salt (we used 5%)

1 tbsp + 1 tsp Sherry Vinegar (we used Gran Reserva)

1 cup Panko Breadcrumbs

½ cup chopped Flat Leaf Parsley
DIRECTIONS
1
Preheat your oven to 350°F.
2
Melt the half stick of butter in a deep sauce pan over Medium heat with the minced shallot & ½ tsp salt. "Sweat" the shallot, cooking it a slightly lower heat than sautéing, so it becomes tender without taking on color.
3
After six to seven minutes, when the shallot has softened, add the mushrooms and bay leaves.
4
When the liquid has come out of the mushrooms and they're starting to brown, add the truffle sauce.
5
When the mushrooms have browned, stir in the flour. Cook for 3-4 minutes, until the flour starts to smell nutty.
6
Whisk in the milk & cook, continuing to stir, until the sauce thickens enough to coat the back of a spoon.
7
Stir in all the cheese except 1 cup of gruyere that you'll reserve for the topping.
8
Remove the bay leaves & taste for seasoning, adding one tablespoon of the sherry vinegar and additional truffle sauce if necessary.
9
Bring a large pot of salted water to a boil & stir in the penne. Boil until the penne is very al dente (still tougher than you'd want to eat it).
10
Drain the pasta & stir it into the cheese sauce.
11
Pour the pasta & sauce mixture into a buttered baking dish.
12
Stir together the reserved gruyere, chopped parsley, remaining sherry vinegar and panko bread crumbs.
13
Sprinkle the panko topping over the pasta & sauce to create an even topping.
14
Move the dish to the oven and bake, uncovered, for 30 minutes.
15
Remove the macaroni & cheese from the oven. Let it cool on the counter for 15 minutes, then scoop portions out & serve.