White Pizza with Fontina, Truffle Salt and Watercress Salad
Makes 4 Personal Pizzas
WINE PAIRING
Greco di Tufo
Fine cheeses, earthy, umami-packed black truffle sauce, and chewy, crispy pizza crust. This is a great way to blow people's minds when they come over for lunch or dinner. To make it even easier, use store-bought pizza dough instead of making your own.
As you'd expect, the red chile flakes can add just a hint of heat, or plenty of kick, depending on how much you use. We recommend keeping the amount fairly small (or, if you'd prefer, omitting them entirely) so the truffles can really shine through.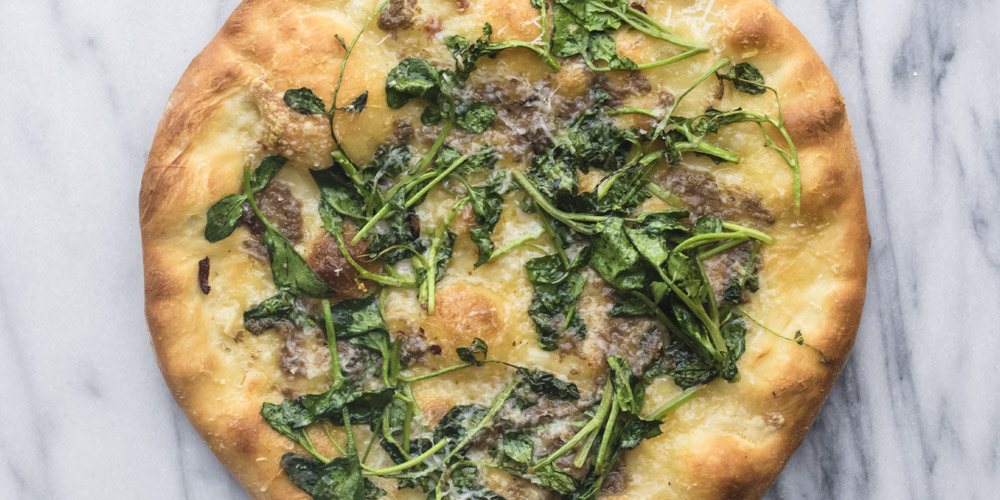 INGREDIENTS
Pizza
1 1/2lb Pizza Dough (store-bought or use this Pizza Dough Recipe)

4oz Fontina Cheese, very thinly sliced.

2oz Pecorino Cheese, very finely grated (ideally microplaned)

8 tsp Extra Virgin Olive Oil

4 tbsp Truffle Sauce

Optional:Red Chile Flakes
Watercress Salad

4 cups Watercress

1 tsp Olive Oil

1 squeeze Lemon Juice
DIRECTIONS
1
Preheat your oven to 500 degrees. If you have a pizza stone, put it in the oven during the preheat. If you don't have a pizza stone, place a baking sheet in the oven during this step to get it super hot.
2
Roll the dough out into four 1/8" thick, 4" wide pizzas.
3
Spread 2 teaspoons of the olive oil and 1 tbsp of the truffle sauce on each pizza.
4
Optional: Sprinkle each pizza with a small amount of the red chile flakes.
5
Top each pizza with 1oz of the fontina and 1/2oz of the grated pecorino.
6
Toss together the watercress salad ingredients.
7
Bake the pizza in the oven (on the pizza stone or baking sheet) until the crust is golden brown (about 7 minutes).
8
Remove the pizzas from the oven & top each with 1/4th of the watercress salad.
9
Return the pizzas to the oven and bake for additional minute.
10
Remove the finished pizzas from the oven & serve.