Truffled Roast Chicken Salad with a Warm Truffle Vinaigrette
Makes 2 Servings
WINE PAIRING
Barbera
Hearty, but not heavy, this is one of the most luxurious salad recipes we've developed. The star? seared & pan-roasted chicken breasts with a savory secret – slices of truffles embedded under the skin!
We used black summer truffle when developing this recipe, but it'd be even better with Burgundy or Perigord black truffles.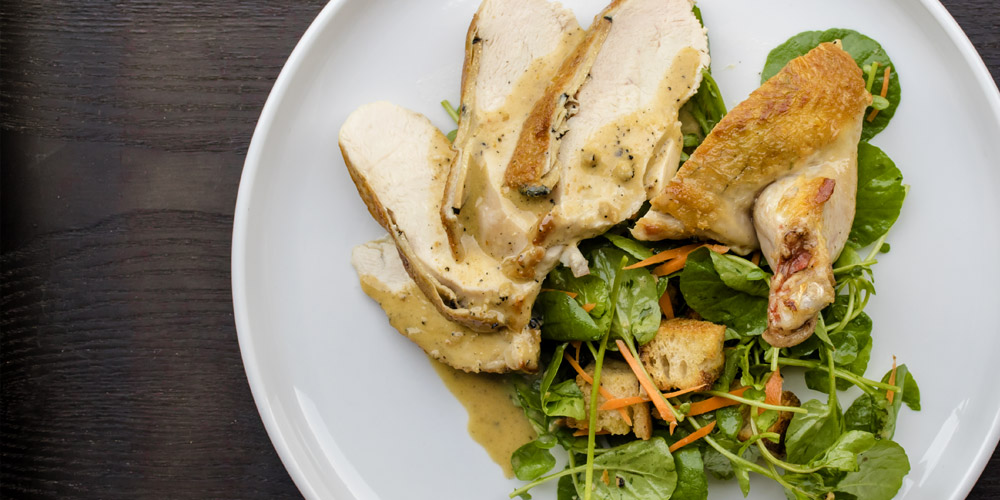 INGREDIENTS
2 Airline Chicken Breasts (could substitute boneless skin-on chicken breasts)
Black Truffle Salt (could substitute plain Salt)

2 tbsp Sherry Vinegar

2 tbsp Apple Cider Vinegar

1 tsp Dijon Mustard

¼ cup Olive Oil

1 tbsp Honey

4 cups Watercress

¼ cup Julienned Carrots

24 Croutons (preferably homemade)
DIRECTIONS
1
Preheat your oven to 300°F.
2
Push your fingers under the chicken skin to loosen it, then season the chicken under the skin with plenty of salt/truffle salt.
3
Insert two thin slices of black truffle under the skin of each breast.
4
Oil an oven-safe skillet or frying pan with high heat oil. Get the oil very hot over medium-high heat.
5
Carefully lay in the chicken breasts, skin-side down, and sear them until the skin browns & crisps.
6
Flip the chicken breasts skin-side up, and move the pan to the oven to roast.
7
Roast until the internal temperature of the chicken reaches 150-155°F.
8
Remove the pan from the oven and the chicken from the pan. Put the chicken on a clean plate to rest.
9
Mince the remainder of the black truffle.
10
Cook the black truffle pieces in the residual chicken fat for a minute over medium heat.
11
Pour the black truffle mixture into a blender with the vinegars, mustard, honey, a pinch of salt, the ¼ cup of olive oil, and the juices from the resting plate. Blend until a smooth vinaigrette forms.
12
In a large bowl toss the watercress with the carrot, croutons, a pinch of salt (preferably truffle salt), and 2 tbsp of the truffle vinaigrette.
13
Slice the chicken breasts on the bias & serve them with the watercress salad, drizzled with a little more of the truffle vinaigrette.